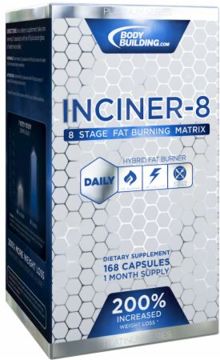 Bodybuilding.com INCINER-8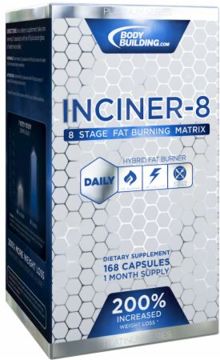 Bodybuilding.com INCINER-8
Inciner-8 your fat,
maintain your muscle*
Not all weight management products are created equal. You need something with powerful, patented ingredients, not heavy doses of ineffective stimulants that result in negative sides. After all, you want to get lean, not lie awake at night because of too much caffeine.
Look no further for the ultimate weight management product: Inciner-8 is in a league of its own.
Unlike most weight management products that are over-stimulated and don't contain the right ingredients in the correct amounts to assist in burning body fat, Inciner-8's formula is based on published studies, and it contains carefully chosen dosages of each ingredient. Inciner-8 is a weight management product that can help support your metabolism to help you sculpt your 8-pack while sparing your hard-earned muscle.*
Inciner-8 was formulated with a synergistic blend of 8 ingredients to:
Promote weight management while maintaining muscle*
Increase energy and focus*
Support metabolism*
Promote a healthy appetite level*
When you use Inciner-8, you will burn fat without the following side effects:*
NO jitters*
NO lost sleep*
NO stomach upset*
Inciner-8 is definitely a weight management product you want to help lose your gut and get cut.*
Fire up your metabolism without the heat*
Capsimax is an innovative and award-winning ingredient that is heating up the fitness industry. With Capsimax, you can enjoy the benefits of capsicum (hot red peppers) without the burn. There is a lot of research behind capsaicinoids that suggests them as effective weight management tools.* Unfortunately, to consume the necessary amount of capsaicinoids for weight loss, you can experience mouth and stomach irritation*. Most people simply can't tolerate it.
Thanks to OmniBead, Capsimax gets around the mouth burn and takes the heat straight to your body fat.* OmniBead is a patent-pending encapsulation technology that allows you to take advantage of the extraordinary thermogenic benefits of capsicum without suffering from the mouth and stomach burn that an unprotected hot red pepper can cause*.
7-Keto is a substance found naturally in the body. It is metabolized from the hormone DHEA and, like DHEA, production declines with age.
Inciner-8 contains the amount of 7-Keto needed to activate 3 important thermogenic enzymes that help the body convert stored fat to energy.* 7-Keto supports your metabolism without the use of dangerous stimulants.*
How it Works:
Convert fat into energy with l-carnitine*
Inciner-8 contains Carnipure. As the name implies, Carnipure the one of the purest forms of l-carnitine you can get. Developed in Switzerland, it is backed by numerous published studies. L-Carnitine is essential for transporting long-chain fatty acids across the mitochondrial membrane to help break down fat and generate energy.*
Promote weight management while increasing antioxidant capacity*
GreenSelect Phytosome, the patented green tea used in Inciner-8, promotes weight management while increasing antioxidant capacity.* GreenSelect Phytosome is a caffeine-free extract from green tea leaves complexed in the phytosome form to increase the amount that can be used effectively by the body.* A thermogenic effect is exerted by the galloyl catechinic derivatives.* Clinical studies suggest GreenSelect Phytosome to be an effective support for weight loss.*
Manage weight while preserving muscle*
When you lose fat, you risk losing hard-earned muscle, as well. Luckily, Inciner-8 makes this worry a thing of the past because it contains ChromeMate.* ChromeMate is a unique, patented, niacin-bound chromium complex that greatly supports the bioavailability and efficacy of chromium.* Research suggests that ChromeMate is absorbed and retained within the body significantly more than chromium picolinate.* ChromeMate has been suggested to promote weight management while helping preserve precious muscle.*
Control your cravings and boost your mood*
5-Hydroxytryptophan (5-HTP) is a plant-derived source of an amino acid that naturally supports your body's level of serotonin.* Serotonin is a neurotransmitter that plays a key role in controlling your appetite and promoting your mood. There is support that suggests low serotonin levels are a common result of our stress-filled modern lives. This may cause cravings for sugar and other carbs. 5-HTP was included in Inciner-8 to support healthy serotonin levels and assist with appetite control.*
Gymnema helps you say goodbye to sugar*
What is Gymnema Sylvestre? The Hindi word gumar, which means "sugar-destroyer," describes the main use of this herb in traditional Indian Ayurveda. It grows in parts of Africa and the tropical forests of central and southern India. Herbalists in India have used this herb for more than 2,000 years to lessen sugar cravings.*
Caffeine Anhydrous
The final ingredient in the synergistic blend is caffeine anhydrous. It is used in a low, jitter-free dose of 100 mg to support thermogenesis.*
8 powerful ingredients in one bottle backed by numerous clinical studies and protected by 5 U.S. patents:
Patent #627,934,999 7-Keto
Patent #455,654,454 Capsimax
Patent #945,004,345 Carnipure
Patent #023,945,444 ChromeMate
Patent #456,223,555 GreenSelect Phytosome
The science behind Inciner-8 speaks for itself. has partnered with the leading ingredient manufacturers to offer you the weight management benefits of Inciner-8 for the wallet-friendly price.
Inciner-8 is sold exclusively at and is backed by a 100% money-back guarantee. If you are not completely satisfied, we will return your money with zero hassle.