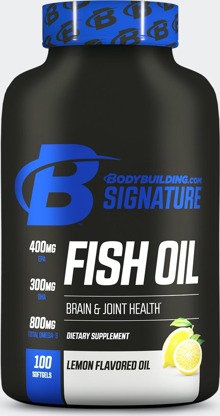 Bodybuilding.com Fish Oil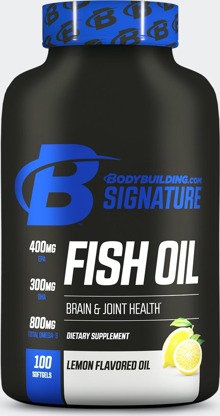 Bodybuilding.com Fish Oil
Fish Oil
1000
milliGrams of
omega-3
Off the Hook: Fish oil with the addition of an exercise regiment may help promote overall health and wellness; support normal, healthy immune function; and support heart, brain, and joint health!*
Go Fish: Fish oils are a fantastic source of Omega-3 essential fatty acids, which promote overall health, support muscle growth, and potentially limit muscle breakdown.*
Product Details:
Fish Oil: get fat.
When people say "fatten up," it's generally not considered a healthy suggestion. If you're talking about the Omega-3 essential fatty acids (EFAs) found in Fish Oil, however, it's some of the healthiest advice you can take.*
Omega-3 fats are termed "essential" because your body can't make them, so you must obtain them from food or supplements. Supplementing with fish oil may help:
promote overall health and wellness*
support normal, healthy immune function*
support heart, brain, and joint health.*
Because of its myriad benefits, consider Fish Oil one of your "foundational supplements." Use it whether you want to build muscle, manage your weight, improve exercise performance, or simply live a healthier lifestyle.*
Fish Oil: It's off the hook.
SPORTS NUTRITION
Here at , our goal is to help people like you meet your health, fitness and appearance goals through information, motivation and supplementation. We want you to have every possible tool at your disposal, so we constantly add more articles, videos, workouts, diet plans and transformation stories to our website. We've also developed a full line of our own nutritional supplements that—when combined with the right workout and nutrition program—will help you reach your goals. All products have been formulated to the highest standards with high-quality, effective ingredients that produce real results. If you aren't completely satisfied with any product, return it any time for a full refund.