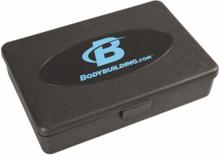 Bodybuilding.com Custom Pill Organizer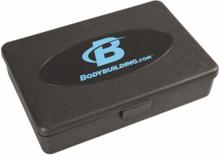 Bodybuilding.com Custom Pill Organizer
Additional Images:
Click to Enlarge
Supplements come in many different forms, shapes and sizes. Pills make up a vast majority of supplements, and it's a pain to lug around multiple pill bottles all day. There are many pill organizers out there to help alleviate this issue, but most of them can't handle the different types, the different shapes, the different sizes, or even the sheer volume of supplement pills we all take every day... Until now! Ladies and gentlemen, this isn't your ordinary pill organizer...
Introducing the Custom Pill Organizer!!! It lets YOU be in control of your pills! This pill organizer can be adjusted to have up to 9 separate pill compartments with varying sizes! Simply move the dividers into one of the designated slots to custom-fit your pills or completely remove them for larger compartments! It's that easy!!
This pill organizer can hold any type of pill out there: capsules, v-caps, liquicaps, tablets, softgels... you name it! The customizability of the Custom Pill Organizer will ensure that all of your supplement pills will fit safely and securely together, from large to small, capsule to softgel. PLUS, don't worry about forgetting which pills are which. The Custom Pill Organizer comes with a set of labels to mark which supplements you store in each compartment!! How convenient is that?!
In addition to customizability, the Custom Pill Organizer can be stored snugly in your gym bag, briefcase, purse, or whatever you use to carry stuff without taking up much room at all! No more fumbling around with multiple pill bottles! On top of that, the Custom Pill Organizer is TOUGH! Made of a durable 100% plastic material, this thing is so strong you could drop it and it won't break!! (WARNING: Do not attempt this at home. Testing was done by professionals in a controlled environment.)
The Custom Pill Organizer is one supplement accessory that you won't want to live without! Get yours now!!
Customizable
Durable
Versatile
Convenient
Up To 9 Pill Compartments
Dimensions: 7.5" x 5" x 2"
Logos on Product May Vary!