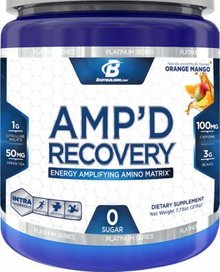 Bodybuilding.com AMP'D Recovery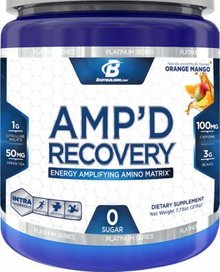 Bodybuilding.com AMP'D Recovery
1g
Citrulline
50mg
Green Tea
100mg
Caffeine
3g
BCAAs
0
Sugar
AMP'D RECOVERY: Muscle Fuel and Energy all in one*
Free-form BCAAs for muscle recovery*
Caffeine to power peak performance*
Citrulline Malate for nitric oxide boost*
Mixes easily
Great taste
When it comes to building your best possible body, recovery is everything. When you're in the gym training to transform, you're actually breaking down muscle tissue, not building it. Without rest and the right nutrients, you can actually hurt your progress, not help it. As a result, proper workout recovery is essential to positive results!
START REBUILDING AND INCREASE YOUR ENERGY LEVEL WITH AMP'D RECOVERY
Amp'd Recovery gives you the building blocks and the energy to build your best physique. Amino acids are the macronutrients responsible for making muscle.* With Amp'd Recovery, you've got not only the building blocks, but also caffeine to support your energy level!*
At 10 calories per serving, Amp'd Recovery is nothing less than guilt-free recovery goodness. It won't damage your diet, but it can help support your gains.* Even better, it tastes incredible and mixes instantly, which lets you drink it anywhere. Free-form aminos are fast-absorbing, which means Amp'd Recovery can be used for pre-, intra-, and post-workout support.*
While it provides a perfect morning kick, use caution when taking Amp'd Recovery if you're caffeine-sensitive. Don't take it within 4-6 hours of bedtime, and don't mix it with other sources of caffeine. Instead, forget coffee: you've got energy plus recovery in Amp'd Recovery!
DIRECTIONS
For Pre, Intra, or Post Workout Energy: Mix 1 scoop with 16 oz. of water on training days or throughout the day on non-training days.
Serving scoop included, but may settle to the bottom during shipping.
Note that Amp'd Recovery is a very versatile product, so don't be shy about adapting it to your needs! If you prefer fasted cardio in the mornings, for example, Amp'd Recovery is a great choice before and during your workout. Or, for a general lifting session, mix a scoop in a shaker bottle and sip on Amp'd Recovery pre- and intra-workout.
If you want to increase your daily BCAA intake without the additional calories from protein, you can also add 1-2 scoops of Amp'd Recovery to a jug of water and drink it over time. If you want to spike the BCAA content of your post-workout whey, simply add a scoop of Amp'd Recovery to your favorite post-workout shake.
AMP'D RECOVERY
However you use it, reap the rewards of Amp'd Recovery.
100% satisfaction guarantee
Amp'd Recovery is part of 's Platinum Series. If you don't feel the difference and are not completely satisfied, simply send us your remaining product for a no-questions-asked refund. We offer this refund with every product in the Platinum Series.Don't just train and rest, recover and rebuild!