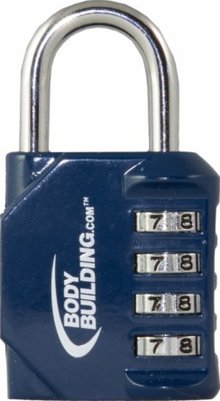 Bodybuilding.com 4 Dial Gym Lock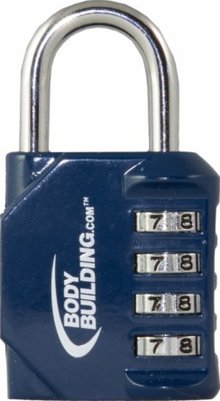 Bodybuilding.com 4 Dial Gym Lock
Heavy Duty Combination Gym Lock!
Additional Images:
Click to Enlarge
Stop worrying about your stuff, and start concentrating on max reppin'! The 4-Dial Gym Lock will keep your gear secure, protecting valuables from locker-room lowlifes. This tamper-resistant lock is constructed from zinc alloy for serious strength and durability. Give the dials a spin to create your favorite of 10,000 possible combinations - it's easy to program and easy to change.
Put your possessions on lockdown with our heavy-duty combination gym lock.
Durable powder coat finish
Customizable combination
Constructed from zinc alloy
Fits most lockers
Dimensions: 0.84" x 1.69" x 3.15"
Weight: 5.12 oz
Instructions
Resettable padlock is factory set at 0-0-0-0. Leave the dials at the opening combination 0-0-0-0 and pull out the shackle.
It has a stainless steel screw-on cap and comes with a sturdy nylon carrying strap.
Turn shackle 90 degrees, and press down as far as it will go. The key on the side of shackle must be aligned with the notch on the lock body in order to complete this step.
While the shackle is pressed into the lock body, you may program your own combination.
Once the new combination is set, release the shackle and return it to the regular position. Your new lock will now open with your personalized combination.
Record your new combination in a safe and accessible place for future reference.