Quick Links to Best Prices Price History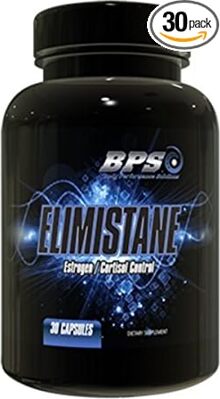 Body Performance Solutions Elimistane
Product Description
Elimistane by BPS
Maximum Estrogen & Cortisol Control for Meteoric Body Recomposition
Sometimes the final step in reaching the herculean physique of your dreams is as much about minimizing the byproducts of your efforts, as it is about maximizing your intensity.
Even the most dense and striated muscle cannot be showcased when estrogen levels are moderate to high. When left with a layer of water covering the physique you've long worked to achieve, you'll find all the cardio and sodium reductions in the world will only make a negligible impact to this undesirable look. However, this simple once a day formula can nearly immediately help drop water weight, harden the muscle, and so much more.
The first ingredient in the novel ELIMISTANE formula not only addresses minimizing estrogen, but also the stress hormone cortisol. The modern lifestyle of working around the clock, raising a family, and battling rush hour traffic is only amplified by the intensive training and draining diets that bodybuilders and elite athletes bodies are subjected to. This unique combination of established compounds with completely novel and first to market ingredients emphasizes maximum synergy. This cooperative approach will drastically reduce metabolic stress, which in addition to benefitting your physique, can even promote an increase in energy.
The fact is, cortisol is robbing your gains from multiple angles. To begin, there is a direct inverse relationship between the stress hormone cortisol, and the primary masculinizing hormone, testosterone.
Additionally, cortisol is a crucial hormone for fat gain and inhibiting your fat loss efforts. As cortisol levels rise, we see an increase in visceral fat storage. Visceral Adipose Tissue (VAT) is perhaps the hardest type of body fat to shed, and is often attributed to the bloated stomach look that bodybuilders suffer from. This solid fat that is deeper within the body, inside the abdominal wall and surrounding organs. It is a known culprit of poor health markers, I addition to adding aesthetic ruining inches to your midsection. Simply, there is no known mechanism to burn VAT better than by swiftly reducing cortisol.
Exogenous hormone usage almost immediately alters cortisol and estrogen levels, and unfortunately manipulates them in less than ideal ways. Combine that with the natural stress factors of our modern lives and we are left needing to combat these side effects to avoid physique and health pitfalls. An excess amount of estrogen can quickly "feminize" the body, leading to body fat being stored more easily, and of course the dreaded gynocomastia that every physique conscious individual fears.
-Lean, Dry Muscularity
- Direct Fat Loss
-Metabolic and Hormonal Balance
-Maximum Muscle Retention
-Rapid Physique Recomposition
Androsta-3,5-Diene-7,17-Dione 75mg
As the driving force of ELIMISTANE, this potent compound is renowned throughout the industry as the single best legal estrogen control on planet earth. It works primarily by being a powerful inhibitor of estrogen, literally eradicating it from the body via the aromatase enzyme. This elimination of estrogen is swift, and irreversible, making this fit into a class of aromatase inhibitor known as a suicide inhibitor (1). While eliminating estrogen from your body is quite useful on its own, this compound doesn't stop there.
The anabolic environment within our bodies changes due to potent hormones that are deeply intertwined with the muscle building process. Perhaps most obviously, we have testosterone. Many people do not realize that testosterone and cortisol actually have an inverse relationship with one another. As we reduce cortisol, we are in effect, aiding in the increase of testosterone. With this one ingredient, we have effectively favorably altered the ratios of testosterone to estrogen, as well as testosterone to cortisol. Leaving the end user in a state where new lean mass is easier to obtain than ever, and stubborn fat is far more prone to finally melting away.
E.Cottonii Extract 10:1 400mg
This relatively unheard of and underutilized ingredient is exactly what BPS is known for bringing our loyal fan base, the absolute pinnacle in scientific innovation. This is perhaps the single most compelling natural ingredient on the marketplace today, as it was able to outperform the popular SERM (Selective Estrogen Receptor Modulator) tamoxifen in a rat study for suppressing breast tumor growth. Furthermore, it did not show the liver or kidney toxicity of tamoxifen (2). Based on the scientific data, this polyphenol rich, heart-healthy and cancer fighting edible red seaweed extract is THE most exciting natural estrogen control ingredient available today and is only found in ELIMISTANE.
Chrysin Cyclodextrin Complex 200mg
In decades past, chrysin was among the most popular natural estrogen management options available. The problem of why this naturally occurring flavonoid supplement didn't stand the test of time on the market was due to its poor bioavailability. We have remedied this by using it in an advanced, and well-known carrier called a cyclodextrin complex. Cyclodextrins are widely studied, and proven groups of oligosaccharides that can greatly enhance the uptake of the ability to absorb the co administered ingredient (3). With this new absorption technology in place, chrysin can fully reveal its true potential as an aromatase inhibitor (4).
Supplement Facts
Serving size: 1 Capsule
Servings per container: 30
Androsta-3,5-Diene-7,17-Dione 75mg
E. Cottonii Extract 10:1 400mg
Chrysin Cyclodextrin Complex 200mg
Resources
1. Synthesis of Androst-5-en-7-ones and Androsta-3,5-dien-7-ones and Their Related 7-Deoxy Analogs as Conformational and Catalytic Probes for the Active Site of Aromatase. Numazawa M, Mutsumi A, Tachibana M, Hishi K. J. Med. Chem., 1994, 37 (14), pp 2198–2205. Available at: http://pubs.acs.org/doi/abs/10.1021/jm00040a012
2. Comparison of tamoxifen with edible seaweed (Eucheuma cottonii L.) extract in suppressing breast tumor. Shamsabadi FT, Khoddami A, Abdullah R, Othman HH, Mohamed S. Nutr Cancer. 2013;65(2):255-62. Available at:http://www.ncbi.nlm.nih.gov/pubmed/23441613
3. Cyclodextrin Drug Carrier Systems. Uekama K, Hirayama F, Irie T. Chem. Rev., 1998, 98 (5), pp 2045–2076. Available at: http://pubs.acs.org/doi/abs/10.1021/cr970025p?journalCode=chreay
4. Inhibition of human estrogen synthetase (aromatase) by flavones. Kellis J, Vickery L. Science 7 September 1984: Vol. 225 no. 4666 pp. 1032-1034. Avilable at: http://www.sciencemag.org/content/225/4666/1032.short
While we work to ensure that product information is correct, on occasion manufacturers may alter their ingredient lists. Actual product packaging and materials may contain more and/or different information than that shown on our Web site. We recommend that you do not solely rely on the information presented and that you always read labels, warnings, and directions before using or consuming a product. For additional information about a product, please contact the manufacturer. Content on this site is for reference purposes and is not intended to substitute for advice given by a physician, pharmacist, or other licensed health-care professional. You should not use this information as self-diagnosis or for treating a health problem or disease. Contact your health-care provider immediately if you suspect that you have a medical problem. Information and statements regarding dietary supplements have not been evaluated by the Food and Drug Administration and are not intended to diagnose, treat, cure, or prevent any disease or health condition. Nutriverse assumes no liability for inaccuracies or misstatements about products.