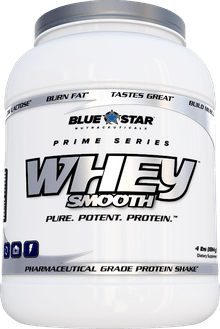 Blue Star Nutraceuticals Whey Smooth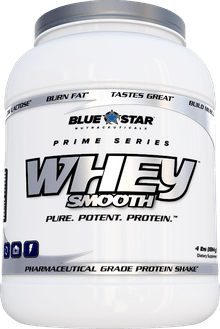 Blue Star Nutraceuticals Whey Smooth
WHEY SMOOTH™
RECOVERY*
STRENGTH*
ENERGY*
HIGHLIGHTS
ABSOLUTELY NO SPIKING
Whey Smooth is produced in a cGMP facility and third party tested to ensure quality. There is no protein 'spiking', fillers or ineffective aminos added. What's on the label is exactly what you get in the bottle.
IRRESISTIBLE TASTE
Tired of bland and boring, Whey Smooth comes in 5 delicious flavors, designed by a flavor team with over 25 years of experience to wake-up your taste buds!
TRICKLE FEED MUSCLES UP TO 8 HOURS*
Whey Smooth contains a blend of 5 unique high quality proteins that are digested and absorbed for up to 8 hours in the body, feeding your muscles all day - and all night.*
PURE. POWERFUL. PROTEIN
BY THE NUMBERS
8
TRICKLE FEED YOUR MUSCLES FOR UP TO 8 HOURS*
27
27 GRAMS OF HIGH QUALITY PROTEIN PER SCOOP
5
5 UNIQUE PROTEINS FOR FAST & SLOW RELEASE
BETTER BY DESIGN.
FAQS
HOW DO I DOSE WHEY SMOOTH FOR THE BEST RESULTS?
Most fitness enthusiasts aim for 1 gram of protein a day for each pound of their bodyweight. For example, a 180lb person would consume 180g of protein a day from food and supplements. We recommend that any protein you don't get from food should be supplemented with Whey Smooth for best results!
HOW DOES WHEY SMOOTH TASTE?
Amazing, with 5 delicious flavors to choose from!
WHAT DO I MIX WHEY SMOOTH WITH?
Feel free to mix Whey Smooth with your favorite beverage. We recommend ice-cold water.
WHAT IS SO DIFFERENT ABOUT BLENDED PROTEINS?
Whey Smooth delivers a blend of 5 unique proteins including Whey Isolate, Concentrate, Hydrolysate, Micellar Caseinate, and Egg White, which digest and are absorbed by the body for up to 8 hours, providing your muscles with protein all day long!*
Blue Star Nutraceuticals is a dietary supplement company that designs, develops, manufactures, markets and retails the best sports nutrition products in the world. We follow the strictest manufacturing practices ensuring potency, purity and safety of our products. A brand synonymous with elite level athletes, performance and physiques, delivering superior results to people just like you. What you notice as a user is that our supplements have a lot more pop. They're just that much stronger, and you feel them that much quicker.