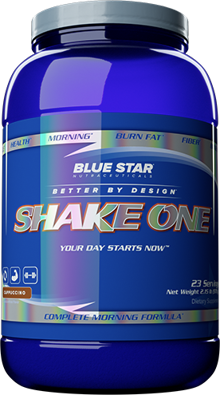 Blue Star Nutraceuticals Shake One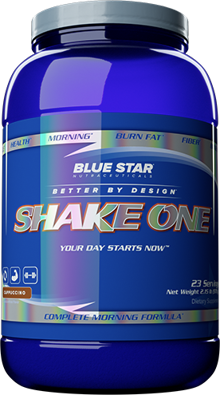 Blue Star Nutraceuticals Shake One
Blue Star Nutraceuticals Shake One - 2.2lb
---
What is Shake One?
Blue Star Shake One is a high protein, high fiber, and high calcium - low fat, low sugar, and low calorie meal replacement. And because it's specifically engineered to be your first meal of the day, it also has a proprietary Morning Stimulant Blend for an added perk that you won't find in other protein shakes. And last but definitely not least, it's delicious to an almost unbelievable point.
---
How does Blue Star Shake One work?
---
Ingredients:
Shake One contains an All Natural Morning Stimulant Blend which contains:
Coffea robusta (bean extract)- are coffee beans that have not yet been roasted. They have a higher level of chlorogenic acid compared to regular roasted coffee beans. Chlorogenic acid can help promote weight loss.†
PurCaf- is the perfect ingredient for natural energy drinks and sport nutrition formulations because it is highly water soluble.†
Guarana- is much longer lasting than coffee, plus the stimulation is less jittery and more clear in character. Guarana not only contains higher amounts of caffeine than coffee, it also contains other alkaloids and fats that suppress the sensation of hunger and thirst.†
Theobroma cacao- May Aid Weight Control, May Improve Symptoms of Type 2 Diabetes, May Improve Mood and Symptoms of Depression, and Improve Blood Flow to Your Brain and Brain Function.†
Shake One also contains an XD Delivery Technology Complex which includes:
Fumarate, BioPerine, AstraGin, Succinate, and Sodium Alpha Lipoic Acid.
---
Other ingredients that are included:
Whey Protein Isolate, MCT Powder (Medium Chain Triglycerides from Coconut), Oat Bran, Inulin (derived from Chicory Root), Natural and Artificial Flavors, Gum Blend (Cellulose, Guar, Xanthan), Instant Coffee, Salt, Sucralose, Sunflower Lecithin.
---
Featured Customer Reviews:
Jojo R.
I've recently lost over 45lbs and added Blade with Shake one to my daily routine. The results are eye opening! The fat is melting off and lean muscle is now in clear view. My wife is loving the results as well.
Rachel I.
I've always been hesitant about morning shakes actually filling me up and preventing the cravings right after. I was surprised the very first time trying the Shake One I felt full without feeling heavy. I didn't crave for hours and was able to sustain a workout even. The cappuccino flavor caught me off guard at first but really grew on me, and replaced my desire for coffee. I still drink coffee but not as much. Overall Blue Star has done it again making another great product.
---
FAQ:
What flavors are currently available?
We currently have French Vanilla, Chocolate, Cappuccino, and Mocha.
Can I take this during the day too so I can replace other meals?
We do not recommend doing that as this is meant for the morning and it is not good to replace all meals with this supplement.
---
Comparable products:
Optimum Whey and Oats
Optimum Greek Yogurt Protein Smoothie
---
Stacks:
If you are looking to help assist with your sleep so when you wake up your Shake One taste even better, we suggest taking GH Peak.
If you are looking for a pre workout to take on your way to your workout after a good morning meal substitute of Shake One, we suggest taking PPK.
---
How do I take Shake One?
Dosage and Directions:
As a dietary supplement, in the morning, mix 1 rounded scoop of Blue Star Shake One with 12 oz of cold water.
---
What's In Blue Star Shake One?
Supplement Facts / Label:
---
Warnings and Side Effects:
KEEP OUT OF REACH OF CHILDREN. Do not use if pregnant or nursing. Not intended for use by persons under 18.
Consult a health care provider before use if you have been treated for or diagnosed with, or have a family history of any medical condition, or if you are using any prescription or over-the-counter medications.
Do not exceed recommended serving, as improper use of this product will not enhance results. Consult a health care provider before starting any diet or exercise program. Use only as directed. Do not use if safety seal on this package has been broken.
Store in a cool, dry place (60° F to 80° F).
Allergy Warning: This product was produced in a facility that may also process ingredients containing milk, egg, soy, peanut, tree nut, fish, crustaceans & shellfish, and wheat products.
---
Disclaimer:
PLEASE NOTE: Product images represent the product offered but may not contain exact attributes. Please read the product description for the specific attributes of this product.
†PLEASE NOTE: The intention of the information above is for reference only. It is our goal to maintain and display accurate information. Yet, we can't guarantee it represents the latest formulation of the product. If you have any concerns, please visit the manufacturer's website. The information above is not a representation of our views at Same Day Supplements. These are the views and information provided by the product's manufacturer. The Food and Drug Administration has not evaluated these statements. The intention of this product is not to diagnose, treat, cure or prevent any disease or illness.
*Prices are subject to change at any time and items may limit to stock on hand.
---
References:
Pierre Geubelle, Julie Gilissen, , Sébastien Dilly, , Laurence Poma, Nadine Dupuis, Céline Laschet, Dayana Abboud, Asuka Inoue, , François Jouret, Bernard Pirotte, and Julien Hanson (2017 Mar 10) Identification and pharmacological characterization of succinate receptor agonists https://www.ncbi.nlm.nih.gov/pmc/articles/PMC5386996/
Charlène Perrois, Susan R. Strickler, Guillaume Mathieu, Maud Lepelley, Lucie Bedon, Stéphane Michaux,Jwanro Husson, Lukas Mueller, and Isabelle Privat (2014 Sep 24) Differential regulation of caffeine metabolism in Coffeaarabica (Arabica) and Coffea canephora (Robusta) https://www.ncbi.nlm.nih.gov/pmc/articles/PMC4282694/
In-stock orders placed before 3pm EST ship out the same day.
We offer many shipping options to countries like:
Brazil
United Kingdom
Canada
Germany
Australia
Japan
India
France
Israel
Worldwide