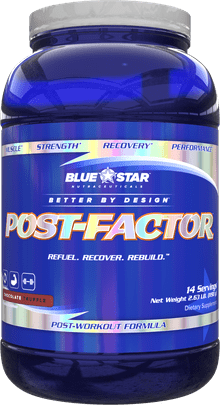 Blue Star Nutraceuticals Post-Factor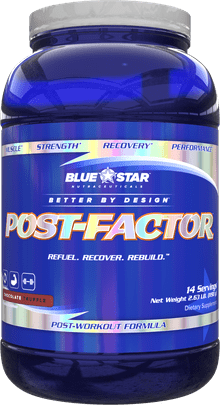 Blue Star Nutraceuticals Post-Factor
Blue Star Nutraceuticals Post-Factor News
Post-Factor
Refuel. Recover. Rebuild
Support Power*
Enhance Performance*
Support Exercise Recovery*
A strong finish means
a stronger start.
Gritty, bar-bending workouts are what separate the men from the boys. They bend and break your muscles into a catabolic state, depleting your energy reserves.
And as a result, your muscles are now stimulated. Ready to grow bigger and return stronger - but only if they have the nourishment they need.
Everything your muscles crave - In one scoop.
Post-Factor is much more than a protein shake. It contains carbohydrate and antioxidants (Vitamins C and E), and is a fast-acting protein shake designed specifically to be taken after your next grueling workout.* Oh yeah, it also comes with our trademarked XD Delivery Technology.*
Broken down for you.
The building blocks of new muscle are amino acids. Protein has them. Post-Factor has it. See the pattern here?
Each Post-Factor serving contains 27 grams of the most advanced whey protein ever developed — hydrolyzed whey protein isolate.* Hydrolyzing whey protein isolates, breaks the larger proteins into smaller pieces. These ultra-pure whey isolates are thought to be absorbed by your body much faster than non-hydrolyzed isolates, allowing your muscles to begin recovery significantly sooner.*
Support Recovery - Antioxidants.*
Each serving of Post-Factor contains more than 100% of the recommended daily intake of Vitamins C & E; two powerful antioxidants that help with exercise recovery.*
Your after-workout dessert.
So what exactly does a groundbreaking rapid-recovery shake taste like? Well, when the flavor team has over 25 years of experience, the answer is "pretty darn good."
Reward your post-workout taste buds with Key Lime Pie, Blueberry Pomegranate, and Chocolate Truffle. Your mouth, and your muscles will thank you for it.
Betty By Design
Real products from real people.
"The couple of hours immediately post-exercise are when muscles are the most sensitive for growth. However, exercise alone in a fasted state leaves your muscles in constant catabolism until your next meal. Your post-exercise meal is a critical component to how your muscles will respond to the exercise. Post-Factor takes all the guess work out and provides only the best ingredients to maximize your muscle growth and recovery."*
David Gundermann
Chief Scientific Officer, Blue Star Nutraceuticals
Ph.D., Nutrition & Metabolism, University of Texas Medical Branch
M.Sc. Human Performance, University of Florida
Blue Star Nutraceuticals - Better By Design.