Quick Links to Best Prices Price History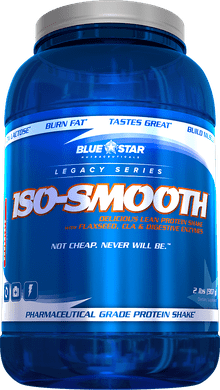 Blue Star Nutraceuticals Iso-Smooth
ISO-SMOOTH
RECOVERY*
MUSCLE*
ENERGY*
HIGHLIGHTS
PROVIDES 30 G OF HIGH QUALITY PROTEIN
SUPPORTS FAT BURNING & MUSCLE BUILDING*
NO AMINO SPIKING
ISO-SMOOTH is formulated for any individual, who wants to build lean body, sustain hard muscle, and accelerate fat loss.*
NOT CHEAP.
NEVER WILL BE.
BY THE NUMBERS
30
30 GRAMS OF ISOLATED PROTEIN PER SERVING
0
ZERO GRAMS OF SUGAR PER SERVING
3
INDEPENDENT THIRD PARTY TESTED - VALIDATING POTENCY AND QUALITY
BETTER BY DESIGN.
FAQS
HOW DO I DOSE ISO-SMOOTH FOR THE BEST RESULTS?
Most fitness enthusiasts aim for 1 gram of protein a day for each pound of their bodyweight. For example, a 180 lb person would consume 180 g of protein a day. We recommend Iso-Smooth on top of your whole food diet, to help fulfill your total daily protein requirements.
HOW DOES ISO-SMOOTH TASTE?
Amazing.
WHAT DO I MIX ISO-SMOOTH WITH?
Feel free to mix Iso-Smooth with your favorite beverage. We recommend ice cold water but many users experiment mixing Iso-Smooth with fruits, berries, milk or juice.
WHAT IS THE SO DIFFERENT ABOUT "ISOLATES?"
Isolates have been filtered more purely from their raw source of protein. This means less sugars, fats, and lactose. Furthermore, they absorb quicker, have superior biological value and mix almost instantly.*
Blue Star Nutraceuticals is a dietary supplement company that designs, develops, manufactures, markets and retails the best sports nutrition products in the world. We follow the strictest manufacturing practices ensuring potency, purity and safety of our products. A brand synonymous with elite level athletes, performance and physiques, delivering superior results to people just like you. What you notice as a user is that our supplements have a lot more pop. They're just that much stronger, and you feel them that much quicker.