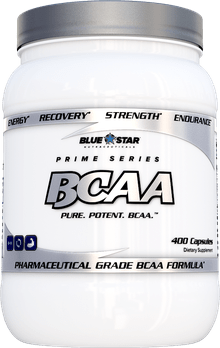 Blue Star Nutraceuticals BCAA XD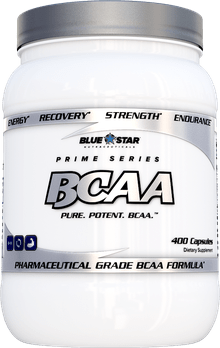 Blue Star Nutraceuticals BCAA XD
PURE. POTENT. BCAA.
Fast Recovery*
More Strength*
Workout Longer*
IMPROVE MUSCLE BUILDING AND RECOVERY TIME
Blue Star Nutraceuticals BCAA XD is powered with scientifically studied doses of ingredients that stimulate protein synthesis helping to promote muscle building and support recovery from exercise.*
DECREASE MUSCLE SORENESS
Taking BCAA XD before and after your workout can support muscle recovery after workouts, which may reduce the amount of exercise-related soreness you feel.* This helps get you back to 100% faster after your hardest workouts.*
Product Highlights
Strength
Recovery
Muscle
By The Numbers
100
Servings Per Container
100
% Recovery - Faster!
15
Minutes Before & After Workout
100
% "FREE FORM" BCAAS FOR BETTER RECOVERY
How To Take
4
Capsules
8-10
Oz of Water
2x
Morning / Night
WHAT WILL YOU EXPERIENCE ON BCAA?
Increase in Protein Synthesis*
Support Exercise Performance*
Support Muscle Recovery*
Human Research
The core ingredients in BCAA XD are scientifically studied on human test subjects, which is important since most companies mislead you by promising results solely on animal research. What's worse, they don't use the scientific dose in their formula!*
References
Blomstrand E, et al. Branched Chain Amino Acids activate key enzymes in protein synthesis after physical exercise. J Nutr. 2006 136: 269S-73S.
Rennie MJ, et al. Branched Chain Amino Acids: Metabolism, Physiological Function and Application. J of Nutr. 2006. 136: 264S-68S.
Shimomura Y, et al. Nutraceutical effects of Branched Chain Amino Acids on Skeletal Muscle. J Nutr. 2006. 136: 529S-32S.
Shimomura Y, et al. Exercise promotes BCAA catabolism: effects of BCAA supplementation on skeletal muscle during exercise. J Nutr. 2004. 134: 1583S-87S.