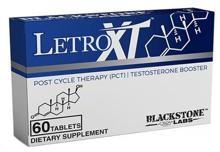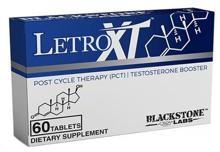 Test Booster + PCT - Blackstone Labs Letro XT 60T
What is the point of going through all the diet, all the workouts, and all the supplements and cycle if you don't take care of your muscles afterwards? Taking all those supplements can put a strain on your body, and then your body will have a hard time adjusting and protecting your muscles, so why not help with a Post Cycle Therapy? That is why Blackstone Labs is here to help. The all new and all strong PCT and a testosterone booster all in one to regulate your hormone and get your body back to making testosterone. Introducing Blackstone Labs Letro XT!
Blackstone Labs Letro XT Benefits
Eviscerates Estrogen
Ultimate Testosterone Booster
Decreases Water Retention
Strong PCT
Helps To Keep Muscles
Helps To Regulate Hormones
What is Blackstone Labs Letro XT?
Letro XT is a Post Cycle Therapy and Testosterone Booster from Blackstone Labs. PCTs are super important if you want to protect and keep the muscles you earned from the cycle. PCTs also help with getting your body ready to produce its own hormones again and go back to normal. But what makes Blackstone Labs Letro XT different is that it is a PCT and Testosterone booster in one! Protect your muscles and regulate testosterone all in one!
How Does Letro XT Work?
Blackstone Labs Letro XT works by correcting your hormone balances after putting your body through a cycle. On top of that, Letro XT can help support your natural test production and reduce water weight that can happen from bulking supplements.
Letro XT has two main ingredients:
3b-hydroxy-androsta-1,4,6-triene-17-one: This is an Aromatase Inhibitor and helps to lower estrogen production while increasing testosterone. In turn this would help to increase fat loss and increase muscle!
3b-hydroxy-androsta-4,6-diene-17-one: This helps to close off testosterone from converting to estrogen. It can also help to create an androgenic environment to make muscles!
How To Take Blackstone Labs Letro XT
As a dietary supplement, take one (1) tablet in the morning and one (1) tablet in the evening. Do not exceed four (4) tablets per day.
Blackstone Labs Letro XT Ingredients
Serving Size: 1 Tablet
Servings Per Container: 60
Proprietary Anabolic & PCT Blend: 75mg
(3b-hydroxy-androsta-1,4,6-triene-17-one, 3b-hydroxy-androsta-4,6-diene-17-one)
Other Ingredients: Microcrystalline Cellulose, Phosphatidylcholine 75%, Hydroxypropyl Beta Cyclodextrin, Medium Chain Triglycerides, Phytosterols, Magnesium Stearate, Silica
Warnings & Side Effects
Allergen: Manufactured on shared equipment that also processes eggs, wheat, and soy (lecithin)
Not intended for use by persons under 18. Do not exceed recommended dosage per day, doing so will not improve results and will result in adverse health effects. If you experience rapid heartbeat, dizziness, severe headache, shortness of breath, or similar symptoms; discontinue use immediately and call a health care professional. Store in a cool dry place. Do not expose to excessive heat and moisture. KEEP OUT OF REACH OF CHILDREN.
References
Kwok WH1, Leung GN2, Wan TS2, Curl P3, Schiff PJ3. - Metabolic study of androsta-1,4,6-triene-3,17-dione in horses using liquid chromatography/high resolution mass spectrometry. - J Steroid Biochem Mol Biol. 2015 Aug;152:142-54. doi: 10.1016/j.jsbmb.2015.05.011. Epub 2015 May 29.

https://www.ncbi.nlm.nih.gov/pubmed/26031748