Quick Links to Best Prices Price History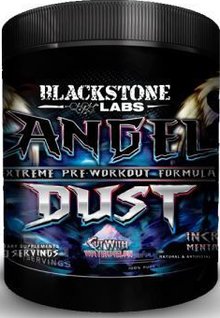 Blackstone Labs Angel Dust
Product Information
BlackStone Labs Dust V2 30 servings
If you liked the original Angel Dust, your gonna love the new and improved version Dust V2! The fully revamped formula will give you explosive strength and power, extreme energy, endurance, and fire hose sized veins and pumps.
We took all of the feedback from Angel Dust, analyzed the most up-to-date research in the field, and catered toward what you, the athlete, needs to drink for optimal performance. There's no fillers or junk, but simply the best tasting, highest quality ingredients available on the market. You can't have the most potent products in the industry and go half-assed on the formula. That means none of the side-effects you hate like cramping, anxiety, or trips to the restroom 10 minutes into your workout.

Get ready people, Dust V2 is about to blow your mind! Strength, endurance, power, and pumps – nothing else matters in a workout!

Benefits:

- Provides Explosive Energy
- Supports Increases in Strength
- Helps Increase Muscle Endurance
- Supports Increased Muscle Pumps
- Helps Increase Mental Focus

Key Ingredients of Dust v2:

Beta-Alanine: An ingredient that is highly effective at increasing muscular Carnosine concentrations while helping to reduce muscle fatigue.

L-Taurine: An amino acid that helps to improve muscle recovery and improve performance.

L-Carnitine Tartarate: An ingredient that supports the reduction of exercise-induced stress.

L-Tyrosine: A non essential amino acid that supports performance enhancement.

Velvet Bean Extract: A precursor to the neurotransmitter Dopamine.

Betaine Anhydrous: Helps to increase power output and strength by increasing cellular swelling.

Agmatine Sulfate: A popular nitric oxide boosting ingredient that supports muscle pumps.

Norvaline: A nitric oxide booster that helps prevent the breakdown of Arginine.

DiCaffeine Malate: A combo of Caffeine and Malic Acid that should have longer lasting effects with less of a stimulant crash.

Hordenine: An ingredient that helps amplify the effects of Caffeine.

N-Methyl-Tryamine: An ingredient that helps to improve focus and mood.

Stearoyl Vanillylamide: A new performance enhancing ingredient.

Noopept: a Nootropic that supports cognitive enhancement.

Yohimbe: A stimulant that also helps to enhance the effects of other stimulants like Caffeine.1

Directions: As a dietary supplement take (1) serving 30 minutes prior to workout. Due to extreme potency user may wish to begin by consuming (1/2) serving to assess tolerance.

Warning: THIS PRODUCT IS ONLY INTENDED TO BE CONSUMED BY HEALTHY ADULTS, 18 YEARS OF AGE OR OLDER. This product contains caffeine and should not be used by individuals wishing to eliminate caffeine from their diet or in combination with caffeine or stimulants from other sources, including but not limited to, coffee, tea, soda, or other dietary supplements and medications. Disconintue use 2 weeks prior to surgery. Immediately discontinue use and contact a medical doctor if you experience any adverse reaction to this product. Do not exceed recommendations for Suggested Use. Use only as directed. Do not use if safety seal is broken or missing. Store in a cool dry place. KEEP OUT OF REACH OF CHILDREN.

Other Ingredients: Malic Acid, Natural and Artificial Flavors, Acesfulfame-K.

Note: Ingredients and Nutrition Data may vary between flavors.


These statements have not been evaluated by the Food and Drug Administration. This product is not intended to diagnose, treat, cure, or prevent any disease.
1: Individual results may vary. Reviews are based on the experiences of a few people and you may not have similar results.