Quick Links to Best Prices Price History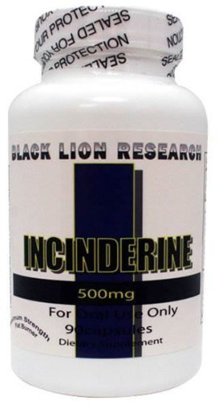 Black Lion Research Incinderine
Is unwanted fat determining what you wear in the morning? Are you fed up with not seeing the beach body results you need in the mirror?
Incinderine by Black Lion Research is an extra strength fat burner that will give you unthinkable results!
Live in the body you've always wanted. Incinderine will make people say WOW, I want YOUR body!
Each capsule includes green tea extract, caffeine, Yohimbine, citrus aurantium, coleus forskohilii, and raspberry ketones.
Black Lion Research blends the perfect ingredients that will accelerate any weight loss journey!
Benefits
-Fat Loss
-Increase Energy
-Appetite Suppression  
CITRUS ARANTIUM
p-synephrine is very similar to ephedrine. Nevertheless, ephedrine is a
phenylpropanolamine derivative and does not contain a para-substituted hydroxy group.
The addition of the parahydroxygroup on the p-synephrinemolecule, as well as the lac
of the methyl group on the side chain change the stereochemistry and as a consequence
the receptor binding characteristics and the pharmacokinetic properties, including  the
ability of p-synephrine to cross the blood-brain barrier. The lipid solubility of p-
synephrine as compared to ephedrine is significantly decreased, resulting in little
transport of p-synephrine into the CNS as compared to ephedrine. As a result of these
structural differences, p-synephrine exhibits little or no CNS and cardiovascular
stimulation as compared to ephedrine.
Yohimbine
Yohimbine primarily acts as an antagonist of alpha-2 adrenoceptors.[2] Additionally, it
inhibits the function of monoamine oxidase enzymes increase adrenergic, dopaminergic and serotonergic neurotransmitters, and induce insulin secretion and decreases blood sugar levels.Yohimbine increases noradrenaline and causes a significant increase in lipolysis.
Yohimbine increases resting metabolic rate
Yohimbine decreases blood sugar
Yohimbine increases lipolysis
Caffeine
Caffeine is found in varities of seeds, leaves, and fruit of some plants, and acts as a natural pesticide that paralyzes and kills certain insects feeding on the plants, as well as enhancing the reward memory of pollinators. It is most commonly consumed by humans in infusions extracted from the seed of the coffee plant and the leaves of the tea bush, as well as from various foods and drinks containing products derived from the kola nut. 
caffeine acts as a central nervous system stimulant, temporarily warding off drowsiness and restoring alertness. It is the world's most widely consumed psychoactive drug, but unlike many other psychoactive substances, it is legal and unregulated in nearly all parts of the world. Beverages containing caffeine, such as coffee, tea, soft drinks, and energy drinks, enjoy great popularity. In North America, 90% of adults consume caffeine daily.