Warning: This product is not currently available at any store.
Click the button above and PricePlow will email you when the first store has it in stock!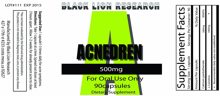 Black Lion Research Acnedren
Product Information
Black Lion Research Acnedren 500mg 90 capsule

The first acne supplement that works!

Research studies have shown that the active ingredients in ACNEDREN may safely and effectively reduce or eliminate acne.

Most acne treatments are very harsh and irritating to the skin. Most commonly bleaches are used which dry the skin and can make things ever worse. Other options such as medications have extremely bad side effects that make their use worse than the acne itself. The solution is ACNEDREN. This supplement is capable of defeating even the worst cases of acne. If you want clear skin and tight pores this is the supplement for you.

Acne starts from the inside not the outside. Companies lie to you and tell you that washing your face with bleach and taking antibiotics is the answer. They are incorrect and you continue to suffer in spite of the fact that you have purchased and used a ton of worthless products. Acnedren works by helping to reduce the amount of oil produced which in turn reduces clogged and infected pores. This is a real solution that works. No washes, no beaches, no harsh medication. Allow 2 weeks for pre-existing acne.

Directions: 1 capsule 1-3 times daily for acne symptoms. Take 1 capsule at a time. Spread out doses at least 3 hours apart. Allow 1-2 weeks for already present acne to clear.
These statements have not been evaluated by the Food and Drug Administration. This product is not intended to diagnose, treat, cure, or prevent any disease.