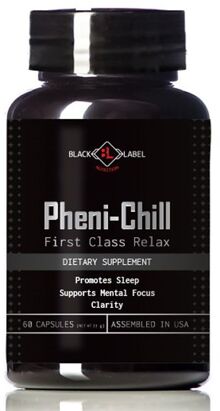 Black Label Nutrition Pheni-Chill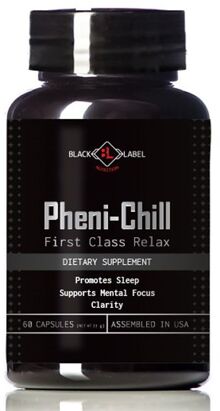 Black Label Nutrition Pheni-Chill
While Supplies Last!
Increases A Sense Of Well Being And Restful Sleep!
What is Phenibut?
Phenibut is derived from the neurotransmitter GABA. Its structure is comparable to GABA. Its phenyl ring allows phenibut to pass through the blood-brain barrier more efficiently than GABA. Phenibut is used for medical purposes in Russia, where it was first discovered.
Phenibut is believed to reduce not only anxiety and tension, but also fear. It may help people who stutter, have trouble sleeping, or suffer from anxiety. Research suggests that it helps to increase strength. It is used as a sleep aid. Additionally, it helps to support brain function.
Phenibut (beta-phenyl-gamma-aminobutyric acid) was discovered in Russia during the 1960's. It is a derivative of the neurotransmitter GABA and is capable of passing the blood brain barrier.
Phenibut is regarded as a Focus for its ability to have an affect of various neurological functions. It is a gamma receptor agonist and also causes the release of GABA.
Phenibut is commonly used for:
Anxiety
Social Anxiety/Social Behavior
Improved Stress Levels
Insomnia and Restful Sleep
Mood & Relaxation
Improved Sense of Well Being
Improved Awareness and Concentration
Intellectual Function
Fatigue Reduction
More
Note: Manufacturers continually change product specifications. While we try our best to keep product descriptions up to date, they do not necessarily reflect the latest information available from the manufacturer. We are not responsible for incorrect or outdated product descriptions and/or images.