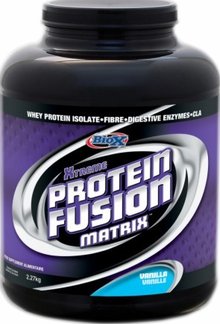 BioX Xtreme Protein Fusion Matrix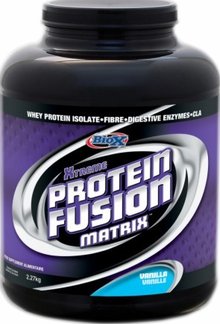 BioX Xtreme Protein Fusion Matrix
Protein Fusion is a great choice for individuals looking for a sustained release protein supplement that will be more substantial (i.e., more filling). Unlike some of our competitors products, Protein Fusion is not simply a whey protein concentrate with a sprinkling of other proteins.
Protein Fusion starts with a generous amount of a highly bio-available protein, our Power Whey Isolate. Then, we add our special combination of sustained release proteins, consisting of instantized Calcium Caseinate, Milk Protein Isolate, and Micellar Casein. We round out our stack with our cross flow microfiltered and ultrafiltered whey protein concentrate found in our exceptionally popular product, Power Whey Complex.
No doubt, the sophisticated stack in Protein Fusion is impressive, however, we are equally pleased with the flavoring methodology we have integrated into Protein Fusion, and can confidently claim that it will be one of the most satisfying sustained release protein shakes you will have.
Protein Fusion brings together the preferred features of both casein and whey and ends the debate as to which protein is better.
It is important to emphasize that our various protein supplements aren't mutually exclusive. For example, it may be advantageous to take a pure whey protein supplement (Isolate or Complex) after a training session, and then take the Protein Fusion as a between meals supplement shake. Protein Fusion is also a great choice as an anticatabolic, before bedtime shake.*