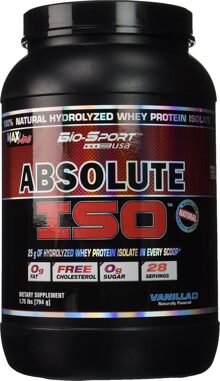 BioSport USA Absolute ISO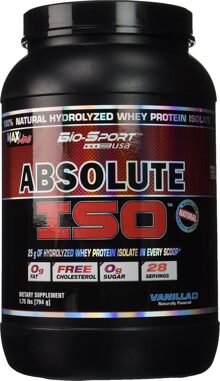 BioSport USA Absolute ISO
100% NATURAL HYDROLYZED WHEY PROTEIN ISOLATE
ABSOLUTE ISO is designed by using purest Hydrolyzed Whey Isolate Protein with minimum added ingredients to insure best and cleanest quality product but still good tasting, easy to mix and creamy.
WHY HYDROLYZED PROTEIN?
Most whey isolates are available as intact proteins, By Hydrolyzing Protein Isolates proteins have been partially broken down by exposing the protein to heat, acid or enzymes that break apart the bonds linking amino acids. This allows it to absorb more rapidly than a concentrate or isolate.
We do not believe in sacrificing one good thing for another, we want it all! That's why we develop products that stand for great quality and great taste.ABSOLUTE ISO is blended, packaged and our whey is sourced from dairy farms in the United States of America.
ABSOLUTE ISO BENEFITS:
100 % natural whey HYDROLYZED PROTEIN ISOLATE
Cholesterol free
Sugar free
No Artificial Sweeteners
No Artificial flavoring
25 g Protein per Scoop
Easy to digest no bloating
Great tasting & Easy Mixing
RECOMMENDED USE:
Add one level scoop to 8 oz. of water, nonfat milk, juice, or your favorite beverage. You can use more or less liquid to meet your desired taste and calorie needs. Shake well in a shaker until dissolved. Whey protein can be added to any food, including yogurt.
BioSport Absolute ISO Nutrition Facts