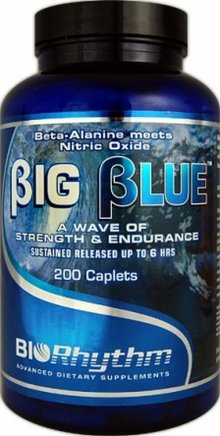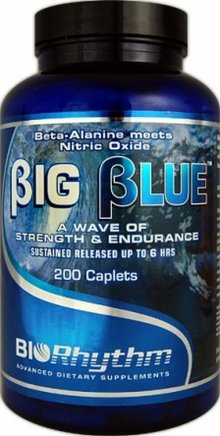 Order & Save $15! Order and automatically receive a $15 discount at checkout on BioRhythm Big Blue, 200 Caplets!

View applied savings in cart
« »
Beta-Alanine Meets Nitric Oxide
The meeting of the Nitric Oxide (NO) supplement L-Arginine AKG with the lactic acid buffering agent Beta-Alanine promotes muscle pumps, vascularity AND endurance.*
How Does Big Blue Work?
L-Arginine AKG is now the "go to ingredient" when bigger and better muscle pumps are desired.* This amino acid is metabolized into a blood gas called nitric oxide which dilates blood vessels allowing for optimal blood flow and fuller thicker muscles.* Additionally, an infusion of blood promotes optimized 02 for strength bursts and temporary endurance.* However, lactic acid build-up will eventually limit total workload.
Beta-Alanine has recently surfaced as the answer to lactic acid build-up and pushing workouts beyond natural limits.* Beta-Alanine, along with metabolic counterpart L-Histidine, has been tested and suggests that it may increase intra-muscular carnosine levels!*
So what does that mean to you? Nothing if you never do physical activity. But if you have ever wanted to do 10 reps in stead of 8, complete 4 sets in stead of 3 or even want to run for 45 minutes in stead of 30, carnosine means a lot!* It means a lot because fitness professionals agree that physiological changes happen not at the beginning of the workout, but at the end.* The further you can push yourself past your natural exhaustion limits, the more results you will see.* Whether it be lean muscle gains, body-fat reduction or endurance training, the harder your push - the more you get.*
Common Questions And Misconceptions
Will I Get Big If I Take Big Blue?
As much as we would like to say our pills are magic, the answer is no. You still need to train hard, very hard. What Big Blue will do is support your ability to train even harder.* Let's say you can bench press 225 for 8 reps...then you're spent. And you have been at this level for months. By adding Big Blue, you can push that burning sensation in your chest muscle back a rep or two. Let's say after a month, your at 10 reps . Now you might move up in weight, right? Remember, strength gains can be cashed in for lean muscle gains.* Proper recovery and meal planning will make it happen faster.
Will I Lose Body-Fat If I Take Big Blue?
Much like the answer above, we do not use magic dust in the formula. We do however use the highest grade ingredients at tested doses to duplicate study results. And the studies reveal a decrease in body-fat percentage while promoting lean mass gains, and/or longer & more productive cardio sessions.* Train hard or go home is not always that simple. Your natural intensity limitations will slow the body's ability to change. Big Blue will help extend those limitations for accelerated results...weather it is gaining muscle -OR- reducing body-fat.*
How Does L-Arginine And Nitric Oxide Fit Into My Routine?
It fits perfectly! The nitric oxide production simply promotes blood flow.* Depending on the activity, increased blood flow can mean stronger muscle contractions, intensity and the beginning stages of optimized endurance.* The burning sensation that limits endurance is largely due to lactic acid production. Natural occurring intramuscular carnosine buffers this acidic compound for as long as possible.* Additional carnosine, above and beyond what is naturally available, is what will propel endurance.*
Can I Just Take Carnosine If That Is The Key To Strength And Endurance?
That is a great question and the answer is no! Carnosine as a free form dietary supplement has no effect on intramuscular carnosine levels. In other words, taking carnosine does not increase carnosine levels.* That discovery took all of ten years (the '90's) to sink in. It was not until as recent as 2005 was it fully understood by taking the component parts of carnosine (beta-alanine and l-histidine) in a very specific ratio, promote carnosine levels.*
If I Train Harder And Do Everything Else The Same, Will That Work?
Yes, but only for a while. Eventually, you will plateau again. In order to get the most out of your workout investments, you must recover. As your intensity increases, the critical time and depth of recovery becomes more important. We recommend our recovery formula with no less than 10 research studies built into the formula called AfterGlow. At the very least, read about it on our website and incorporate some form of recovery meal/supplement into your daily routine. We find recovery is the single most neglected or misunderstood component of many fitness programs.
What Else Is A Good Stack With Big Blue?
An excellent complementary product to Big Blue is Kre-Alkalyn Compound.* A separate study tested the compound effect of beta-alanine, l-histidine and creatine on strength. The results were greater than the sum it parts.* The researchers suggested that the compound can promote strength and stamina while supporting reductions in body-fat.* Kre-Alkalyn Compound applies U.S. Patent number 6,399,661 to creatine yielding superior absorption.*