Quick Links to Our Prices Price History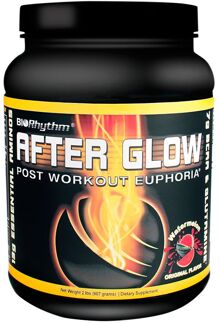 Order & Save $24!Order and automatically receive a $24 discount at checkout on BioRhythm AfterGlow, 4.23 Lbs. in the flavor of your choice!

View applied savings in cart

Order & Save $7!Order and automatically receive a $7 discount at checkout on BioRhythm AfterGlow, 2.12 Lbs. in the flavor of your choice!

View applied savings in cart
«»
Post Workout Euphoria*
When Protein isn't Enough - AfterGlow™ is the Answer
Purpose:
Promote complete muscle recovery and restore depleted glycogen stores (energy)*
Reduce recovery time*
Benefits:
Fast & efficient recovery paves the way for most every fitness goal:

Lean muscle gains*
Reduction of body-fat*
Improve endurance training*
Improve skill training*

Powered with properly dosed actives that may help support against catabolism.*
Evidence based (four independent university studies) macro-nutrient ratios: carbohydrates, protein & fat.*
'All in one' supplement that takes the place of up to eight other supplements you may already be taking.*
When Protein isn't Enough - AfterGlow™ is the Answer
Description:
Mom always said, "Breakfast is the most important meal of the day". Well it's time to call home and teach mom a thing or two about the one meal you'll never miss again.
Nutritional Demands of Training
During any given training session, our bodies pull on stored glycogen as fuel for muscle contraction, strength and endurance. Amino acids, vitamin and nutrient levels are all heavily taxed in a typical 45 minute session. Creatine and ATP serum counts are now at lower points. And to make things worse, cortisol levels (muscle eating hormone) are at their highest. Your body may be aboue to use muscle as an energy source!* Your favorite protein drink, or your mom, can't save you now...
AfterGlow™ is the solution for the post workout catabolic blues.* Contrary to popular belief, high levels of protein directly after a training session may not properly replenish vital nutrients and save depleted and torn muscle fibers.* In fact, several non-biased research studies prove excessive protein intake after a workout provides little to no physiological advantage whatsoever!*
Related research suggests skipping this meal is a one way ticket to catabolism.* This means if you plan on skipping your post workout meal, do yourself a favor and just skip the workout.
What's in AfterGlow™ and how does it work?
There are eight components to a timely and complete recovery. If you miss one or more recovery components, a portion of the time spent training will be wasted.
Simply stated, the faster and more complete a recovery - the faster and more complete your body will change. Below is a chart of what is in AfterGlow™, why you need it and how it works:
| | |
| --- | --- |
| After a Workout, Research Suggests...* | AfterGlow Has… |
| Simple and complex carbs support muscle glycogen.* 1, 2, 5 | Over 30 grams of all natural evaporated cane juice and complex carbohydrates. |
| Moderate levels of a fast acting high quality protein and essential amino acids (EAA's).3 | 20 grams of WPI, the highest quality  EAA's & fastest acting complete protein on the planet earth. |
| High dosed free form amino acids to help accelerate recovery and suport an anabolic environment.* 4 & 7 | Over 10 grams of l-glutaime and BCAA AKG. |
| Little or no fat to impede speed of absorption.2 | Zero fat. |
| A form of creatine to replenish muscle ATP.6 | 1000mg of KreAlkalyn (U.S. Patent# 6,399,661), the only creatine pH buffered to remain stable in liquid. |
| Post workout hormone cortisol can trigger muscle atrophy (shrinkage). 8 | 800mg of phosphatidylserine |
| Catabolic free radicals and metabolic waste can impede growth and recovery.9 | Nearly 2000mg of powerful free radical scavengers and antioxidants. |
| Additional anabolic agents can help recovery and build muscle if all other criteria are met. | 1000mg of cissus quadrangularis (50mg 3-ketosteroids), the new superstar of herbal anabolics |
| Users of supplements who drink a shake they consider bad tasting are 60% more likely to quit before the bottle is empty. | An excellent flavoring system that transforms the most advanced anabolic recovery supplement into a fruit flavored drink that you'll want to chug. |
REFERENCES:
1. BØrsheim E, Cree MG, et al. "Effect of carbohydrate intake on net muscle protein synthesis during recovery from resistance exercise." Journal of Applied Physiology . 2004 Feb; 96 (2):674-8. Epub 2003 Oct 31.
BØrsheim E, Aarsland A, et al. "Effect of an amino acid, protein, and carbohydrate mixture on net muscle protein balance after resistance exercise." International Journal of Sport Nutrition and Exercise Metabolism. 2004 Jun;14(3):255-71.
Tipton KD, Elliot TA, Cree Mg et al. "Ingestion of Casein and whey proteins result in muscle anabolism after resistance exercise." Medicine and Science in Sports and Exercise. 2004 Dec;36(12):2073-81.
BØrsheim E, Tipton KD, et al. "Essential amino acid and muscle protein recovery from resistance exercise." American Journal of Physiology - Endocrinology and Metabolism. 2002 Oct;283(4):E648-57.
Rasmussen BB, Tipton KD, et al. "An oral essential amino acid-carbohydrate supplement enhances muscle protein anabolism after resistance exercise." Journal of Applied Physiology . 2000 Feb;88(2):386-92.
Branch JD. "Effect of creatine supplementation on body composition and performance: a meta-analysis." International Journal of Sport Nutrition and Exercise Metabolism. 2003 Jun;13(2):198-226.
Jackman SR, Witard OC, et al. "Branched-chain amino acid ingestion can ameliorate soreness from eccentric exercise." Medicine and Science in Sports and Exercise." 2009 Dec 4.
Starks MA, Starks SL, et al. "The effects of phosphatidylserine on endocrine response to moderate intensity exercise." Journal of the International Society of Sports Nutrition. 2008 Jul 28;5:11.
Zembron-Lacny A, Ostapiuk J, Szyszka K. "Effects of sulphur-containing compounds on plasma redox status in muscle-damaging exercise." The Chinese Journal of Physiology. 2009 Oct 31;52(5):289-94.
Mettler S, Michell N, Tipton KD. "Increased protein intake reduces lean body mass loss during weight loss in athletes." Medicine and Science in Sports and Exercise. 2010 Feb;42(2):326-37.