Warning: This product is not currently available at any store.
Click the button above and PricePlow will email you when the first store has it in stock!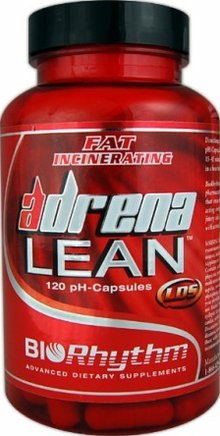 Order & Save $10!Order and automatically receive a $10 discount at checkout on BioRhythm AdrenaLean, 90 PH-Capsules!

View applied savings in cart

Order & Save $2!Order and automatically receive a $2 discount at checkout on BioRhythm AdrenaLean, 60 PH-Capsules!

View applied savings in cart

Order & Save $2!Order and automatically receive a $2 discount at checkout on BioRhythm AdrenaLean, 6 PH-Capsules!

View applied savings in cart
«»
Fast Energy* - Appetite Support* - One Cap Serving
BioRhythm's extra strength Adrena Lean™ LDS utilizes a unique pH correct LipoTonic Delivery System that ensures nearly 100% absorption.* The outcome is fast acting energy, appetite regulation support, and weight loss minus the jittery side effects.*
No Jitters*
Support Appetite Regulation*
Promote Long Lasting Energy*
Experience The Power Of Optimized Absorption, With A True Adrena Lean™ Rush!*
The Science Of AdrenaLean LDS™
AdrenaLean was originally designed as a soft gel stimulant then as a liquid-cap. However, after several sample runs, the consensus was good but only good like everyone else. So we then turned toward the science of pH adjusted enhanced absorption.
AdrenaLean is a pH correct stimulant fat burner.* It is actually taken a step or two further with a sodium correct isotonic preparation. Isotonic is defined as: "A solution that has the same salt concentration as the normal cells of the body and the blood. An isotonic beverage may be drunk to replace the fluid and minerals which the body uses during physical activity."
When an AdrenaLean capsule is taken with a 4 to 6 oz. of water, the liquid in the stomach is quickly neutralized and isotonic.* This makes it ready for absorption in minutes, reducing loss due to stomach acids.* The result is feeling the full effects of active ingredients that can be found in 90% of typical fat burners.* Superior absorption cuts a serving size down to one capsule. The effects felt are lightning fast energy boost and excellent support for appetite regulation.* The delivery technology is called LDS, short for LipoTonic Delivery System. The LDS is currently being tested in other areas of supplementation.
How To Take AdrenaLean LDS™
The appetite regulating support of AdrenaLean makes it a perfect fit as a mid-meal or pre-meal supplement.* As a mid-meal supplement, AdrenaLean will help curb cravings and take the mind off food, sweets or snacks.* Often, this time period is mid morning or mid day. One pill at either of those times will help you make it to lunch or dinner without breaking down.* Additionally, the fast acting energy of AdrenaLean will power you through those sluggish times of the day.
One capsule is designed to promote the stimulatory power of most of our competitors two or three capsules, liquid capsules and even soft gels.
The Synergistic Effect: The complimentary effects of the individual ingredients plus the LDS create an entirely new scale of expectations when compared to traditional stimulatory thermogenics.* The statement "the whole is greater than the sum of its parts" defines the engineering behind AdrenaLean.