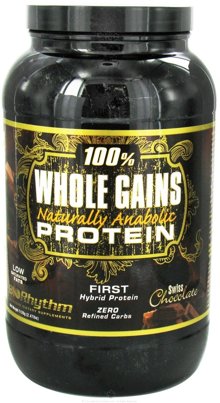 BioRhythm 100% Whole Gains Naturally Anabolic Protein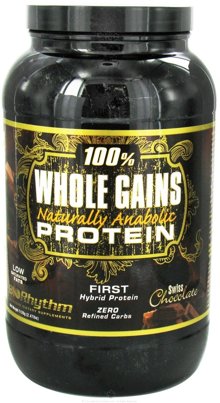 BioRhythm 100% Whole Gains Naturally Anabolic Protein
Whey 100% Whole Gains?
Feed your body with a uniquely natural and delectable supplement while creating an anabolic environment for muscle growth and repair.*
Whole Anabolic Blend assembles a unique ratio of undenatured whole Proteins that are absorbed at a controlled rate, maximizing the body's positive nitrogen balance – the very definition of anabolic!*
Whole Carbohydrate Fuel is a food based whole grain high energy source for muscle contraction, refueling and repair. 100% Whole Gains uses no processed carbs notorious for bloating and increasing stored fat.*
Whole Leans Fats is another high energy source in EFA's readily available for enhancing your body's metabolism while assisting in protein synthesis. 100% Whole Gains uses only the highest quality & most healthy ingredients, yielding low saturated fat content.*
100% Whole Gain is further enhanced with Complete Absorb Digestive Enzyme Complex. This naturally occurring enzymatic blend will help ensure complete and full absorption getting you better results per each serving.*
When to use 100% Whole Gains?
This premium meal supplement is an excellent choice for breakfast, in the afternoon or late evening. 100% Whole Gains offers a good source of healthy fats, whole grain carbohydrates and extended release protein blend that can be efficiently utilized any time of the day. Use a smaller serving size as a hunger busting mid day snack, or prepare a full serving as a pre-muscle fueling meal (30 minutes to 2hrs before training).*
Vitamin And Mineral Profile
Vitamin A………33%
Vitamin C………33%
Calcium………33%
Iron………33%
Vitamin D………33%
Vitamin E………33%
Thiamin (B1) ………33%
Riboflavin (B2) ………33%
Niacin (B3) ………33%
Vitamin B6………33%
Folic Acid………33%
Vitamin B12………33%
Biotin………33%
Magnesium Stearate………33%
Pantothenic Acid………33%
Copper………33%
Zinc………33%
Chromium 40mcg………33%
Enhanced Amino Acid Profile
L-Alanine………1668mg
L-Arginine………939mg
L-Aspartic Acid………4021mg
L-Cystine………490mg
L-Glycine………1616mg
L-Glutamic Acid………5150mg
L-Histidine*………770mg
L-Isoleucine (BCAA)* ………1631mg
L-Leucine (BCAA)* ………4289mg
L-Lysine*………3852mg
L-Methionine*………1325mg
L-Phenylalanine………1325mg
L-Proline………1635mg
L-Serine………1735mg
L-Threonine………1915mg
L-Tryptophan………979mg
L-Tyrosine………1484mg
L-Valine (BCAA) ………1671mg
*essential Amino Acids
* These statements have not been evaluated by the Food and Drug Administration. This product is not intended to diagnose, treat, cure, or prevent any disease.