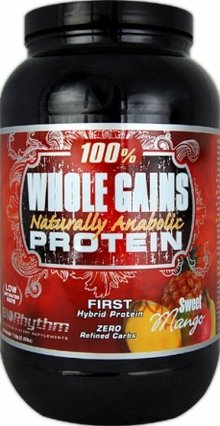 BioRhythm 100% Whole Gains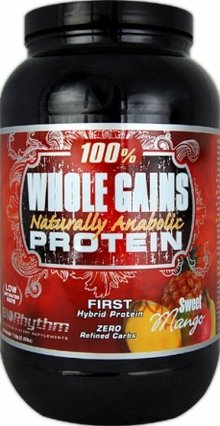 BioRhythm 100% Whole Gains
Order & Save $8! Order and automatically receive a $8 discount at checkout on BioRhythm 100% Whole Gains, 2.47 Lbs. in the flavor of your choice!

View applied savings in cart
« »
100% Whole Gains has been a pioneering force not only in protein supplementation, but also in the dietary supplement market as a whole. Whole Gains protein incorporates the use of whole carbohydrate sources into a protein powder. The result is a protein powder that closely resembles the protein:carbohydrate:fat ratio that many certified nutrition professionals already recommend.* 100% Whole Gains is the first to complement eating programs vs. clashing with them.
Why should I try 100% Whole Gains vs. My Current Protein?
That type of profile has been the most popular for years, because it is what people "want". Crazy as this may sound; it is not what you need. The protein concentration in that type of product is nowhere near what you can eat, and may be wasted in very large proportions due to its nitrogen density.* Simply put, research suggests that more is not always better.
What is so great about 100% Whole Gains?
The Whole Gains macronutrient profile (meaning fat, carbohydrates and protein breakdown) is derived from an evidence based formulating style versus fitting as much protein into a powder as possible. By correctly proportioning the macronutrients, the efficiency of absorption and distribution may increase drastically.* Also, users may notice less gastro intestinal discomfort and a better tasting product.*
Best of all, since market inception, users of 100% Whole Gains see all the gains associated with "low carb" proteins plus the energy from whole carbohydrates and healthy fats without experiencing digestion discomfort.* This fact only confirms what extensive research suggests, putting the low carbohydrate diets to rest years ago.
When should I take Whole Gains?
The best time to take 100% Whole Gains is anytime you need a balanced snack or meal on the go. The only exception is after a workout. Post-workout nutrition is extremely unique. See our AfterGlow page to learn more about what the studies reveal.
Who should take Whole Gains?
100% Whole Gains is a universal product. With a name like Whole Gains and a slogan of Naturally Anabolic, many users have questioned the product direction. Be reassured, Whole Gains is for anyone looking for quality calories to replace lower quality meal choices or to supplement an already established program. If you are training with free weights in a pyramid style for mass, or if you circuit train and focus on cardio...Whole Gains is a perfect fit. Even if you just try to eat right and walk around the neighborhood - Whole Gains can help!
Final Word
We hear the same thing from supplement store employees and end users alike, "we want a low carb protein". To that, BioRhythm could have easily taken the easy route and added to the misconception by making another "me too" product. Instead, as in all of our products, we have taken the road less traveled and put our faith in research results not market trends. The result has been (to date) nearly 100,000 satisfied users that believed in the smart approach. Give Whole Gains a try and you will know it was the right choice.