Warning: This product is not currently available at any store.
Click the button above and PricePlow will email you when the first store has it in stock!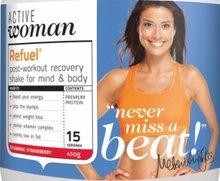 Bio-Synergy Active Woman Refuel
Skip the Slumps with Quality Carbs
Premium Protein Helps Develop Toned Muscles*
Creatine to Support Energy and a Quick Recovery*
Complete RDA of Vitamins and Minerals for a Healthy Body*
Refuel will bring you back to the world of the living after any workout
Ditch the post-workout slumps with Refuel, the ultimate solution for smart nutrition. The period immediately following exercise is when your body most needs quality sustenance to build a toned physique. Pack a delicious Refuel shake in your gym bag, you can rest easy knowing all your recovery bases are covered with a post-workout pick-me-up. With a powerful shot of energy, it gets you back on your feet and on with your day while providing a strong base of premium protein to help develop lean muscle mass.* We've rounded out Refuel with a complete range of micronutrients and core vitamins that stimulate the metabolism fat burning.* Skip the slumps and enjoy a delicious shot of get up and go with Refuel.
How will Refuel help you?
Quality Carbs for Clean Energy*
Your body requires a serious shot of energy following exercise to bring it back into fighting shape, but not all sugars are created equal. Refuel tops up your energy levels with long-chain quality carbs like Dextrose to give you the pep you need.*
A Premium Protein Blend for Superior Energy*
Each serving of Refuel packs a punch of premium protein - that's high-powered quality energy to charge your batteries. Our premium protein blend is made with micellar casein, whey isolate, and whey concentrate to provide a balance of short bursts of energy with slow-burning, long-lasting fuel that will help carry you through the longest Zumbathon.*
Vital Vitamin Complex
With Vitamin C, E, B2, and Folic Acid, Refuel is primed to push you into the best shape of your life. These vitamins play vital roles in efficient energy metabolism, and also help support bones and sensitive muscle tissues.* Play smart and play safe with Refuel so you'll never have to stop.
Creatine for Improved Performance*
Creatine is a naturally occurring organic acid that releases energy and assists in sustained performance. Each serving of Refuel is packed with 5g of creatine to promote recovery and energy levels following workouts.*
Electrolytes to Get You Back on Your Feet*
You lose more than water when you sweat, and it's important to restore vital electrolyte levels post-workout to safeguard your gains.* We've crafted Refuel with a blend of Calcium, Sodium, Potassium, Phosphorus, and Magnesium to make sure you stay zesty after even the toughest bouts of exercise.
Convenient Nutrition
A delicious shake perfect before a workout or between meals during the day where a healthy, quick and easy protein and vitamin supplement is required.
Research Supported
Protein has been the subject of numerous studies which have demonstrated its importance in curbing hunger and maximizing muscle recovery.*