Quick Links to Our Prices Price History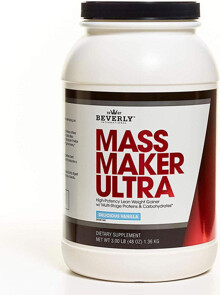 Beverly International Mass Maker Ultra
High-Potency Lean Weight Gainer
New Mass Maker Ultra (MMU) is even more potent, creamy, and delicious than our original Mass Maker formula! MMU is ideal for hard-training natural athletes who want to gain lean weight (muscle) quickly and need a convenient, concentrated source of extra calories to help them do it.*
Aids in Weight-Gaining and Muscle-Building*
Helps to Stabilize Weight Loss in Hard-Training Athletes*
Enhances Recovery from Training*
Enhances Training Performance*
Don't settle for just a little edge - with Mass Maker, you can have it all - rapid training, recovery, super-sonic, quality lean muscle mass gains - all with a taste so irresistible that your mouth will be watering for more after every training session.
4 High-Quality Proteins
MMU's multi-stage system of fast- and slow-release proteins (25g of protein per serving) supports a sustained mass-building state. Each protein is easily digested and complete with all of the essential amino acids that your muscles need to grow.*
11 High-Quality Carbohydrates
MMU's multi-stage system of fast- and slow-release carbs includes whole grains like quinoa, amaranth, and more. They provide essential fuel (glucose) to drive your athletic performance and support recovery from long, tiring workouts.*
High-Potency
To make gaining mass even easier, we boosted the energy density of MMU to 390 delicious calories per serving!
Incredible Taste and Aroma
Testers of MMU Vanilla have compared its taste and aroma to cheesecake, creamy whip ice cream and vanilla pudding. MMU Chocolate's taste reminds you of drinking a glass of fresh milk mixed with a spoonful of your favorite chocolate syrup as a child!