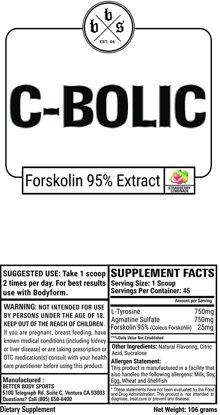 Better Body Sports C-Bolic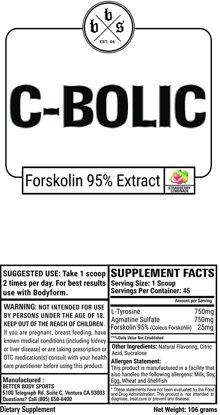 Better Body Sports C-Bolic
C-Bolic
Direct Activator of Adenylate Cyclase
BBS Sponsored Athlete
Elle Iakovenko
---
Burn Fat the Easy Way!!
We all know the dreads that come with dieting... loss of strength, low mood, low energy, but the worst of them all... loss of muscle. We work so hard in the gym day after day, workout after workout only to start losing that hard gained muscle at the time we are looking to get ripped. It makes no sense... why gain the muscle, only to lose it when you're trying to get shredded?
Better Body Sports has presented the industry with the answer to gaining muscle, while helping to lose fat: C-Bolic.* C-Bolic is a highly concentrated form of the herb Forskolin in a 95% extract. Forskolin is a natural compound produced in India which studies suggest not only supports fat reduction, but optimizes hormone levels as well as signaling the body to remain in a prime muscle building state.*
How does C-Bolic work?
The answer is cAMP. Forskolin in the body activates an enzyme in the body known as adenlyate cyclase. When this is activated, it goes into its respected cell and increases le vels of cAMP (cycle adenosine monophosphate).* Forskolin increases levels of cAMP.* cAMP in the fat cell triggers a process known as lipolysis, which is the breaking down of fat for use of energy while actually sparing muscle!* What does this mean for all you dieters out there? HELP LOSE FAT, NOT MUSCLE!*
If you are dieting, whether it is to just lose the holiday pounds, getting ready for beach season, or are prepping for your next contest, there is no reason why Better Body Sports C-Bolic should not be part of your arsenal!
---
Adipocyte Isolated Lipolysis
Natural | Non-Stimulant | Unrivaled 95% Extract