Quick Links to Best Prices Price History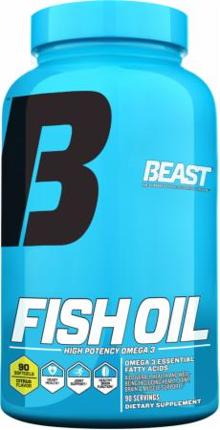 Healthy Fat Keeps it Beast
Aid Overall Health and Well-Being*
Support for Heart & Cardiovascular System*
Healthy Brain Function*
Joint & Muscle Health*
Fish Oil contains the omega-3 fatty acids eicosapentaenoic acid (EPA) and docosahexaenoic (DHA). These essential fatty acids help support the heart, joints & brain as well as overall health and wellness. Beast Fish Oil is of the highest quality and rich in EPA and DHA for maximum health benefits.*
Beast Sport Nutrition's high quality fish oil is an ultra-purified EPA/DHA supplement that promotes overall wellness. Fish oil provides essential fats because it is made up of omega-3 fatty acids. Essential fats are those that the body can't produce on its own and must intake through food or supplementation. A growing body of scientific research on the benefits of fish oil over the years has concluded that it can help with numerous health conditions and specific systems in the body. It goes without saying that the benefits of EPA/DHA can be obtained from eating fish, and to a lesser degree, a few other types of foods. However, it is difficult for many people to intake enough of these foods on a daily basis to reap the full benefits.*
How Will Beast Sports Fish Oil Help Me Achieve My Goals?
Not only has fish oil supplementation been shown to support cardiovascular health, but there is also scientific evidence that points to it being effective in other ways. Studies have shown that fish oil supports joint and muscle health, which is a typical concern for those who engage in strenuous physical activity. Supplementing with Beast Sports Fish Oil can also support immune function and overall health.*
Will I Get the Fishy Aftertaste with Beast Sports Fish Oil?
Beast Sports Nutrition knew that "fishy aftertaste", or "fish burps" would be a big concern for our customers; therefore, we added a natural citrus flavor to the product.*
Is It True that Fish Oil Can Enhance Fat Loss?
Yes, supplementing with a high quality fish oil product like Beast Sports Fish Oil has been shown to help with fat loss. Numerous studies have shown that supplementing with fish oil increases insulin sensitivity, lowers the amount of insulin produced by the body, therefore increasing the body's ability to burn fat and decrease fat storage.*