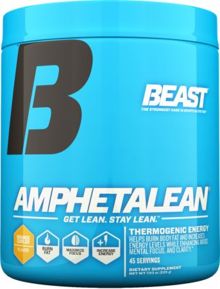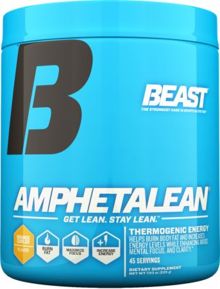 Amphetalean is Beast's fat-burning energy drink powder, well known for its feel-good action and incredible taste. It also comes in capsule form, but it's the powdered drink mix that really sets it apart.
There are two versions of this product - in 2013, the ingredients were upgraded for new and improved fat burning effects.
To tell the difference, just look at the bottle - an orange label color means that it is the older ingredients (reviewed by Mike and CJ below). A blue label is the new formula from 2013, with the ingredients below:
Our Amphetalean Review
Mike and CJ reviewed the older version of Amphetalean, which has fewer ingredients, and is based mainly on caffeine, PEA, hordenine, and cAMP listed above. Hordenine acts as a natural MAO inhibitor to make the PEA last longer.
---
Amphetalean's Ingredients
The mix of focus and energy enhancing ingredients in the updated version is below:
Choline Bitartrate

A focus enhancer that the brain actively uses to delay fatigue and assist with several brain functions, including memory.

Phenylethylalamine HCl

Also known as PEA, this is the compound that's so popular in dark chocolate that boosts your dopamine and gives you a feel-good, motivating kick. Great to take before working out!

Coffea Robusta (bean)

Providing some caffeine for energy, this is better known as green coffee bean extract and has shown some moderate success in burning fat and lowering blood pressure.


Nelumbo Nucifera (seed)

A flower whose components have been shown to have anti-obesity / fat burning effects.[1]

An extremely over-hyped ingredient that has not been proven to burn fat in humans. While there's no probelm with it being in this product - it is safe - we would never recommend spending extra money on raspberry ketones alone.

Click the link above to read more about raspberry ketones and why they don't work.

Ginkgo Biloba Extract (leaf)

A popular and well-known memory enhancer that provides nootropic effects.

Evodia Rutaecarpa Extract 10% Evodiamine

A fruit with energy-producing, thermogenic effects that work similarly to capcaisin, the chemical responsible for the heat and fat-burning effects in red pepper extract.[2]

N,N-Dimethyl-Tyramine

Also known as N-Methyl-Tyramine, this is a mild stimulant that enhances the effects of other stimulants. It helps to burn fat by initiating a very small norepinephrine boost (micmicking a flight-or-fight response), at a safe level of 1/140th of adrenaline.[3]

cAMP (Cyclic Adenosine-3'-5'-Monophosphate)

Simply pronounced "Camp", it is involved in energy metabolism, as it is derived from the ATP molecule, which is your cells' energy source.
---
Where to buy it
Here on PricePlow, you can compare prices to get the best deal - save over 40% off retail by buying online!
---
References
Chungbuk National University, Chemical constituents from Nelumbo nucifera leaves and their anti-obesity effects, 2013, Ahn JK

Tsukuba Research Laboratories, Capsaicin-like anti-obese activities of evodiamine from fruits of Evodia rutaecarpa, a vanilloid receptor agonist, 2001, Kobayashi.

Ind. Eng. Chem, Beta-Phenethylamine Derivatives, 1945, Hartung, Walter H.