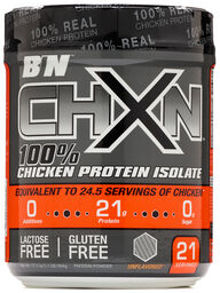 BarnDad Nutrition CHXN 100% Chicken Protein Isolate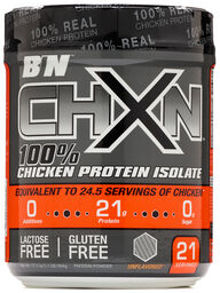 BarnDad Nutrition CHXN 100% Chicken Protein Isolate
Mixes quickly and delivers 100% Real Chicken Protein
Patent Pending Gently Processed Chicken Protein Isolate (CPI)
Enhanced bio-availability for fast absorption and digestibility
Free from common allergens, gluten and lactose free
High in BCAA's (Leucine, Isoleucine and Valine) in Each Serving
180% more naturally occurring L-Arginine than Whey
Product Details:
BIN'sTM 100% CHXNTM ​is a real chicken​​ dietary supplement. America's first ​choice for a complete 100% Chicken Protein Isolate now in an Unflavored convenient powder delivering the highest bio-available Protein in a Patent Pending Gently Processed (GP) isolate that is Gluten, Lactose and Allergen Free.*
BIN'sTM 100% CHXNTM packs 21 grams of the highest quality, digestible, muscle-building protein per serving with less than 2g of collagen per serving. It's loaded with BCAA's and all the essential and non-essential amino acids needed to support muscle recovery and growth. This superior dietary supplement chicken-protein technology yields some of the highest levels of muscle-building amino acids and contains more than 180% more naturally occurring L-Arginine than Whey.*
BIN'sTM 100% CHXNTM is the New Gold Standard for a Real Chicken Protein Isolate Powder when a Higher REAL FOOD PROTEIN DIETARY SUPPLEMENT is wanted. BIN'sTM 100% CHXNTM Isolate can be added to your favorite beverage, food recipe or can be used alone, ​helping active adults to maintain peak performance.*.
-

Equivalent to
24.5 servings of
chicken per canister
Lactose Free • Gluten Free
BINTM 100% CHXNTM CHICKEN PROTEIN ISOLATE. is a macro nutrient dense supplement that mixes easily with water or other beverages. Achieve your protein needs to reach peak physical condition with BINTM 100% CHXNTM CHICKEN PROTEIN ISOLATE.