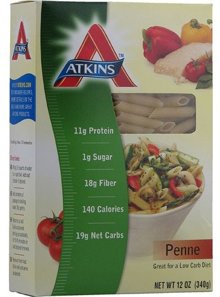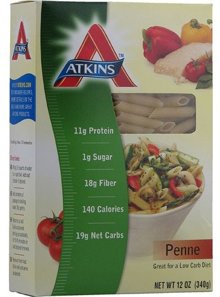 Atkins Cuisine Penne Pasta Description
Great for a Low Carb Diet
11g Protein
1g Sugar
18g Fiber
140 Calories
19g Net Carbs
Atkins is a powerful life-time approach to successful weight loss and weight management.
Eat your favorite foods without compromising your diet. Introducing Atkins Penne. Incredible taste, half the carbs, and ready for your favorite sauce in minutes. Who's hungry?
This product can be used in Phase 4 of the Atkins Diet
Directions

Bring 3-5 quarts of water to a rapid boil. Add salt to taste, if desired.
Add contents of package to boiling water. Stir gently.
Return to a boil. Cook uncovered, stirring occasionally, for 13-15 minutes or until desired firmness.
Remove from heat. Drain well and serve as desired.
Cooking Time: 15 minutes
Disclaimer These statements have not been evaluated by the FDA. These products are not intended to diagnose, treat, cure, or prevent any disease.
Nutrition Facts