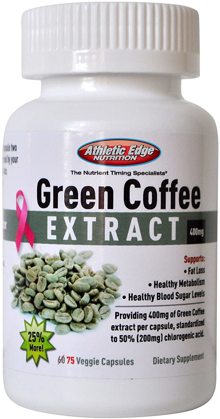 Athletic Edge Nutrition Green Coffee Extract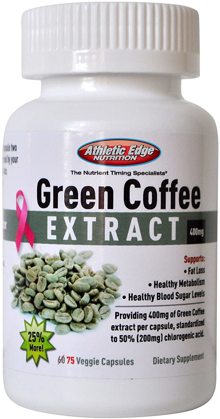 Athletic Edge Nutrition Green Coffee Extract
For every bottle sold, Athletic Edge will contribute a donation towards the fight against breast cancer!
Green Coffee Extract with 50% Chlorogenic Acid
Supports Fat Loss*
Supports Healthy Metabolism*
Supports Healthy Blood Sugar Levels*
Vegetarian Formula
Our Green Coffee Extract is a dedicated high quality, high potency formula with NONE of the unnecessary additives, fillers, artificial colors or flavors taking away from its potency and purity. Just the purest non-GMO unroasted coffee beans, containing 50% (200mg) of chlorogenic acid per veggie capsule.
Why green coffee beans instead of roasted coffee beans?
New research has identified a compound called chlorogenic acid which is believed to be responsible for green coffee's ability to support fat loss and maintain healthy blood sugar levels. During the coffee bean roasting process, much of this beneficial chlorogenic acid is broken down and greatly reduced.*