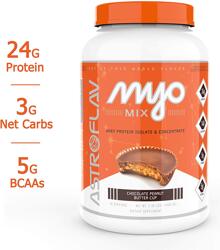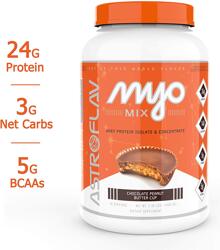 Benefits
⭐️ ⭐️ ⭐️ ⭐️ ⭐️ "Love this stuff! This protein shake has a really good taste and fills me up as a meal. I would recommend this to anyone looking for a simple meal replacement."
-Derrik D., MyoMix Customer
MyoMix Is the perfect meal replacement shake!
Low Sugar and Carbs!
Out Of This World Flavor!
Makes it easy to increase protein or the number of meals throughout your day!
Makes It Easy To Achieve All Your Goals Whether It's Losing, Maintaining, Or Gaining!
Try it once! That's all it takes to understand what makes MyoMix the world's best protein powder. MyoMix is so delicious that you'll wonder how you ever got by using anything else! We designed MyoMix from the ground up to be one thing: THE BEST.
MyoMix is a slow digesting protein blend. Containing 24g of Instantized Whey Protein Isolate & Instantized Whey Protein Concentrate per serving.
How To Use
Quick and easy two step mixing!
Pour 8-10 oz of your preferred beverage.
Add 1 serving of MyoMix to your shaker cup. (Mixes great even with a spoon)
Quick and easy smoothie!
Add 1 serving of

MyoMix

to a blender filled with 8-10 oz of water, nonfat milk, or your favorite beverage.
Blend for 20-30 seconds.
Add 1 or 2 ice cubes and blend for another 30 seconds.
Other Great Ideas!
Try mixing a scoop into oatmeal, yogurt, or the milk you pour over your cereal. Better yet... Add a scoop to your baked goods recipes to boost the protein of your pancakes, muffins, brownies, etc.
Guarantee
Unlike those other companies that make it almost impossible to return anything, we offer a 30 day money back guarantee on all products for any reason! Even if you've opened it! If you don't open it, you'll never know how amazing it is, right?
OH… And also… We guarantee it'll taste great, mix easy, and be free of fillers, or added sugar.
FAQ
WHAT'S THE DIFFERENCE BETWEEN ASTROFLAV'S MYOMIX PROTEIN AND ISOMIX PROTEIN?
IsoMix is a whey protein isolate, which are ideal for post workout. Much of the fat and all of the lactose are removed, which make it very fast digesting and capable of kicking you into a state of recovery very quickly.
MyoMix is a blended protein, which is ideal throughout the day for meals, snacks etc. The blend of different protein sources gives a trickle effect to stimulate muscle growth and metabolism for a much longer period of time like food does.
WHAT CAN I EXPECT FROM MYOMIX?
MyoMix's Out of This World Flavor is by far the best tasting, best mixing whey protein isolate on the market and gentle on digestion. You will not only taste the difference, but you will actually feel the difference.
IS MYOMIX SAFE TO USE EVERY DAY?
Yes, absolutely! You can use this protein as often as you like. For best use, we suggest using MyoMix post workout. The sooner you get protein into your muscles, the faster you can begin to recover from your workout.
WHAT ARE THE INGREDIENTS & ALLERGENS?
Ingredients & allergens these vary dependent on the flavor. Listed below are the ingredients & allergens that are in every MyoMix.

Ingredients:

Low Temperature Processed Whey Protein Isolate
Low Temperature Processed Whey Protein Concentrate
MCT Oil Powder
Organic Agave Inulin
Natural and Artificial Flavors
Sunflower Lecithin
Guar Gum
Xanthan Gum
Guar Gum
Sucralose
Allergens: Milk
IS MYOMIX SAFE FOR CHILDREN TO USE TOO?
Yes! It's safe for both children and adults. (Always check with your doctor first before beginning any supplementation).

CAN I USE MyoMix WITH MY OTHER FAVORITE MYOMIX PRODUCTS?
Yes, absolutely! MyoMix paired with our other products along with a good diet and exercise plan, will help you become the best version of yourself!
IS MYOMIX GLUTEN-FREE, SOY-FREE AND VEGAN?
MyoMix is Gluten Free, certain flavors contain soy. MyoMix is not Vegan because it is a whey protein, which is a dairy source.
WHEN WILL MY MYOMIX BE SHIPPED?
Your package will be fulfilled within 24 hours of your order. EXCLUDING Friday after 5pm, & Saturday orders. These will be shipped out Monday.