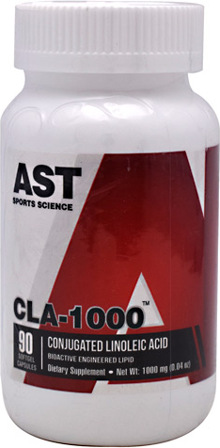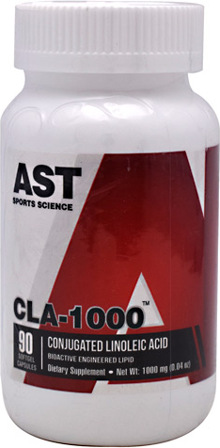 CLA 1000 Product Highlights:
Decreases Body Fat*
Increases Fat Metabolism*
Increases Protein Synthesis*
2400 Mg Conjugated Linoleic Acid per serving
CLA - Conjugated Linoleic Acid - is not a new discovery as some people would have you believe. However, better understandings of its possibilities are leading to potential applications that are awfully new and exciting. AST Sports Science was the first company to report on CLA's potential benefits to the athlete over two years ago, and recent studies are confirming our predictions.
CLA was revealed by accident in 1978 by Michael W. Pariza at the University of Wisconsin while searching for mutagen formations in meat during cooking. CLA, found naturally in many animal products, contains positional and geometric isomers of linoleic acid. The difference between the two centers on CLA's conjugated double bonds at carbon atoms 10 and 12 or 9 and 11. The 9 cis, 11 trans isomer is believed to be the most biologically active form of CLA.
Although all the details of CLA are not fully understood, it is widely established in the research community that CLA counterbalances the negative effects of linoleic acid and controls fat and protein metabolism in animals. Pariza, director of the Food Research Institute at the University of Wisconsin stated, "A growing body of data indicates that CLA is a newly recognized nutrient that functions to regulate energy retention and metabolism."