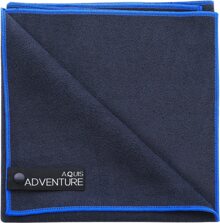 Aquis Adventure Microfiber Towel Extra Large Blueberry Mesh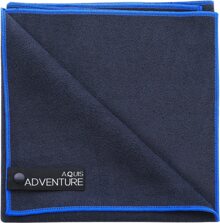 Aquis Adventure Microfiber Towel Extra Large Blueberry Mesh
Ideal for the outdoors, camping hiking sports, fitness and adventure
Fast Drying
Super Absorbent
Ultra-Lightweight
Durable
Compact
Soft 
Convenient
1 Hair Towel ~ 29 x 55 inches
(under 12 oz)
Aquis
towels are made of Aquitex, a super absorbent material woven from ultrafine microfibers.  The technology behind our microfiber towel enables water to be drawn from hair and skin more quickly and thoroughly than other towels.  And it's especially gentle on hair and skin.  Designed to be lightweight, compact and durable. Aquis towels are ideal for everyday use at home, at the gym and while traveling.  The towels are machine washable.
Aquitex - The Difference is the Material
The Aquis fiber starts out as a single microfiber (a microfiber is half the diameter of a silk fiber).
Each Aquis fiber is split lengthwise to create ultrafine microfibers that are woven together.
The result is a material with more surface area for greater absorption and a soft, luxurious feel.
Britanne™ - The original microfiber towel company since 1990.
* These statements have not been evaluated by the Food and Drug Administration. This product is not intended to diagnose, treat, cure, or prevent any disease.