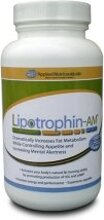 Applied Nutriceuticals Lipo-AM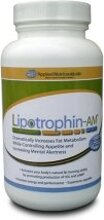 Applied Nutriceuticals Lipo-AM
BURN FAT
WHILE
CONTROLLING
APPETITE
AND

INCREASING
MENTAL
ALERTNESS*
• INCREASESENERGY AND PERFORMANCE*
• HELPS CONTROL APPETITE*
• PROMOTES PRODUCTION OF
FAT-BURNING ENZYMES
What is LIPO-AM and What Does it Do?
LIPO-AM is part one of a 2-stage fat metabolizer that reduces fatigue and restores mental alertness all day long while supporting fat metabolism.* We developed this powerful fat burning compound through extensive research and application of the most modern scientific principles. Our research team put a lot of time in product development and testing of LIPO-AM, filtering through the countless ingredients available on the market in order to find the most effective compounds possible. The team finally concluded that the active ingredients in this formula, when specially measured and synergistically proportioned to optimized dosage levels, creates the best possible product for fat loss without heavy stimulants- the result of this research is LIPO-AM.*
The Basics of LIPO-AM
Activates body's natural fat burning ability by promoting production of metabolic hormones.*
Supports appetite control through increasing Cholesystokinin (CCK).*
Increases thermogenesis.*
Increases energy and performance.*
Reduced physical fatigue*
Restored mental alertness*
Increases in fat metabolism*
Supports a leaner and more energenic you!*
What Makes LIPO-AM the Most Effective FAT BURNER on the Market?
The combination of the ingredients in LIPO-AM are specially measured and formulated into a powerful synergistic compound turning your body into a fat-burning machine!*
CAFFEINE
Caffeine is a central nervous system and metabolic stimulant that temporarily restores alertness and reduces physical fatigue. It also improves general body coordination and exerts many beneficial effects on the body, such as fat loss and energy metabolism. Caffeine has been shown to increase lipolysis (fat burning), by liberating glycerol and free fatty acids from triglycerides (stored fat). This is important because when free fatty acids and glycerol enter the blood stream they can be readily disposed of as energy. Caffeine accomplishes lipolysis through a multifaceted system, starting with an increase in norepinephrine (NE), a neurotransmitter responsible for alertness and also for fat loss.* Once NE is activated, it triggers adenylate cyclase, which then triggers cAMP (cyclic AMP, an energy molecule necessary for fat liberation) to build up in cells. NE begins this process of cAMP build-up by combining with beta receptors on a target cell to stimulate adenylate cyclase/cAMP; increased levels of cAMP within the cell ultimately result in greater amounts of fatty acids being liberated from triglycerides through the following mechanism: increased cAMP levels cause the protein kinase enzyme PKA to activate production Hormone-Sensitive Lipase (HSL), a hormone responsible for fat loss.* HSL then triggers the release of fatty acids from triglycerides (fat tissue); these resulting fatty acid chains are broken down within the fat cell,which are subsequently broken down even further into acetyl-CoA. Acetyl-CoA is an important energy substrate that is in a form that can be readily utilized during the Krebs Cycle, which is active during aerobic exercise. This is am primary mechanism of how fat is disbursed as fuel for the body, but is just one of the several ways that LIPO-AM facilitates fat metabolism.* (1-3).
GREEN TEA
Green Tea (GTE) is a versatile herb used for many centuries for a variety of maladies; GTE has been known to be a strong fat burner that works through several different complementary mechanisms. It is composed mainly of catechins, pheophytins, chlorophylls, carotenoids, theanine, and a small amount of caffeine (1,2,4,5). EGCG, a catechin found in high amounts in Lipotrophin, is the most relevant compound, because it exerts a variety of important metabolic, nutrient partitioning, and appetite-controlling effects that contribute to supporting weight loss.* Green Tea is a supports appetite control, as the EGCG triggers the brain to secrete higher amounts of cholecystokinin (CCK), a peptide hormone that is vital in control of the appetite and the digestion of fat and protein.* Green Tea also seems to have a nutrient-repartitioning quality, which means it has the ability to allow for the metabolism and utilization of macronutrients (carbohydrates and bound triglycerides as fuel), while disallowing others (like dietary fat) to be digested and stored.* This nutrient-repartitioning quality is extremely important during weight and body fat loss, as EGCG allows the body to preferentially utilize fat as fuel over carbohydrates. EGCG in Green Tea has been suggested to inhibit the production of catechol-0-methyl-transferase (COMT).* COMT is important to fat loss, because it is the enzyme that metabolically deactivates norepinephrine through inducing a structural change; therefore limiting the production of COMT allows norepinephrine to exert much stronger effects on the fat-burning cascade.* (4,6,7)
MUCUNA
Another important mechanism of action in the LIPO-AM fat loss arsenal is the release of L-Dopa-induced growth hormone (GH) and L-Dopa-related control of carbohydrate cravings and blood sugar.* The Mucuna Pruriens contained in LIPO-AM is of the highest quality, and is standardized to 75% L-Dopa. Currently there is plenty of documentation on L-Dopa's potent neurotransmitter-boosting effects, including its conversion to dopamine and its effects supporting healthy blood sugar levels already in a normal range, both of which are very noteworthy for weight loss.* Low neurotransmitter levels (mainly dopamine and serotonin) can result in cravings for sugars and sweets, to which to most common response is "comfort eating". Obviously, uncontrolled cravings can wreck any diet or weight loss plan. Mucuna helps stem this problem due to its properties that attenuate blood sugar levels, which is important because high spikes in blood sugar can trigger higher insulin secretion and which results in high insulin levels.* The inclusion of mucuna pruriens allows for a greater control of cravings and glucose utilization, benefiting the user by allowing for greater weight loss.* While mucuna limits blood sugar and controls cravings, it positively effects GH levels as well. LIPO-AM contains large amounts of L-Dopa, and L-Dopa is the only form of Dopamine that can cross the blood/brain barrier. Once L-Dopa is converted to Dopamine in the brain, it allows for a greater stimulation of GHRH (growth hormone releasing hormone), which directly stimulates increased growth hormone production.* (8,10,11,12)
BACOPA
Bacopa Monnieri is the final ingredient in LIPO-AM. Bacopa can increase T4 (thyroxine, a thyroid hormone) synthesis while allowing the uninterrupted conversion of T4 to T3. This is noteworthy, because thyroid hormone is metabolically active, and is an important component of fat loss. Conversion of T4 to T3 is an important aspect of this process. T4 is synthesized from free tyrosine, and combined with iodine, and upon stimulation by TSH (Thyroid Stimulating Hormone), T3 and T4 are formed. (18,25) Thyroid hormone produced is about 90% T4 and 10% T3, and T3 is considered the biologically active component of thyroid, as T4 must be converted down to T3 for it to be active in target tissues. (12) The production of thyroxine is regulated by TSH, and TSH is suppressed when T4 levels are high. The mechanism of action of Bacopa is crucial to this process, as it stimulates the continued synthesis of T4, providing a constant and readily available source of convertible material that will ultimately become T3*. (25) This is extremely important to fat loss, because T3 is roughly ten times more biologically active than T4, and T3 increases basal metabolic rate and body heat production, resulting in greater fat loss.*
For Maximum Results, What Does LIPO-AM Stack Best With?
Goals
Products
24 Hour Fat Loss
LIPO-PM + LIPO-AM
Gain Lean Mass While Losing Fat
DRIVE + LIPO-AM
REFERENCES
1. Nehlig A, Daval JL, Debry, G (1992). Caffeine and the CNS: Mechanisms of Action, biochemical, metabolic, and psychostimulant effects. Brain Res Rev 17(2): 139-170.
2. Weinberg BA, Belar BK (2001). The World of Caffeine. Routledge. ISBN 0-415-92722-6.
3. Bolton PHd. Sanford GN (1981). Caffeine: Psychological Effects, Use and Abuse. Orthomolecular Psychiatry 10(3): 202-211.
4. Nagua T, Komine Y, Soga S, Meguro S, Hase T, Tanaka Y, Tokimitsu I (2004). Anti-obesity actions of green tea: possible involvements in modulation of the glucose uptake system and suppression of the adipogenesis-related transcription factors. Biofactors 22(1-4): 135-140.
5. Carlson A (2005). Ingestion of a tea rich in catchechins leads to a reduction in body fat and malondialhyde-modified LDL in men. Am J Clin Nutri 81(1): 122-129.
6. Greenough A, Cole G, Lewis J, Lockton A, Blundell J (1998). Untangling the effects of hunger, anxiety, and nausea on energy intake during IV cholecystokinin octapeptide (CCK-8) infusion. Physiol Behav 65(2): 303-310.
7. Fink A, Rex A, Voits M, Voight JP (1999). Major biological actions of CCK- a critical evaluation of research findings. Exp Brain Res 123(1-2): 77-83.
8. Chantre P, Lairon D (2002). Phytomedicine. Recent findings of green tea extract AR 25 (Exolise) and its activity for the treatment of obesity. Phytomedicine 9(1): 3-8.
9. Dulloo AG, Seydoux J Girardier L, Chantre P (2000). Green tea and thermogenesis: Interactions between catechin-polyphenols, caffeine, and sympathetic activity. Int J Obes Relat Metab Dis 24 (2): 252-258.
10. Kao YH, Hilpakka RA, Liao S (2000) Modulation of endocrine systems and food intake by green tea epigallocatechin gallate. Endocrinology 141(3): 980-7.
11. Richelsen B (1999) Effect of growth hormone on adipose tissue and skeletal muscle lipoprotein lipase activity in humans. J Endocronol Invest. 22(5):10-15.
12. Dimaraka EV, Jaffe CA, Bowers CY, Marbach P (2003) Pulsatile and nocturnal growth hormone secretions in men do not require periodic declines of somatostatin. Am J Phsiol Endocrinol Metab. 285(1): 163-170.
13. Jensen MD (2003) Effects of growth hormone administration on human obesity. Obes. Res. 11(2). 170-5.
14. The thyroid gland. Endocrinology: An Integrated Approach by Stephen Nussey and Saffron Whitehead (2001). Published by BIOS Scientific Publishers Inc.
15. Eggo MC, Bachrach LK, Burrow GN. (1990) Interaction of TSH, insulin and insulin-like growth factors with thyroid growth and function. Growth Factors. 2(2-3). 99-109.
16. Rathi SS, Grover JK, Vats V. (1999) The effect of momordica charantia and Mucuna pruriens in experimental diabetes and their effect on key metabolic enzymes involved in carbohydrate metabolism. Department of Pharmacology, All India Institute of Medical Sciences, Ansari Nagar, New Delhi.
17. Parikh et al, (1990) Indian Drugs. Chem Abs 27: 353.
18. Ahmad S et al (1991) Conference of Pharmacology and Simposium on Herbal Drugs (New Delhi), March 1991, 15:26.
19. Manyam BV (1995) J. Altern. Completment Med. Fall. 1(3) 244-255.
20. Takahashi Y, Kipnis M, Daughaday WH (1968) Growth hormone secretion during sleep. J Clin Invest 47(9): 2079-2090.
21. Kar A, Panda S, Bharti S (2002) Relative efficacy of three medicinal plant extracts in the alteration of thyroid hormone concentrations in male mice. J Ethnopharmacol 81(2): 281-85.
22. Rai D, Bhatia P, Palit G, Pal R, Singh S, Singh HK (2003) Adaptogenic effect of Bacopa Monnieri. Pharmacol Biochem. Behavior 75(4): 823-830.