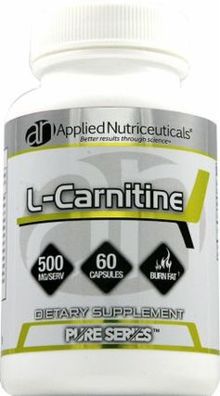 Applied Nutriceuticals L-Carnitine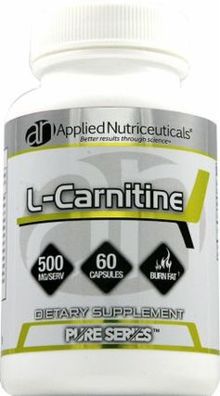 Applied Nutriceuticals L-Carnitine
L-Carnitine
L-Carnitine is used to transport fat to the body's fat burning factories. L-carnitine is an ergogenic (or "energy boosting") aid, designed to enhance performance and help to create a leaner, trimmer physique. This amino acid is considered powerful, that's why we packaged it independently, it is also an ingredient to combine with other fat burning and performance ingredients.
L-Carnitine has been suggested to boost energy by stimulating the body's burning of triglycerides as fuel, and sparing the supply of glycogen stored in the liver for heavier exertion. During exercise, the body will burn fat at an improved rate during maximum exertion, thus less glycogen from carbohydrates is burned.*
L-carnitine allows the body to burn more fat, save more glycogen, and ultimately boost stamina and endurance.*
Since the beginning, Applied Nutraceuticals has prided itself with giving our consumers the most cutting-edge and efficacious supplements possible. With this is mind, Applied Nutraceuticals has developed both the Innovation Series and Pure Series, two unique lines of supplements that are not a mere product evolution, but a REVOLUTION in the industry. The Innovation Series utilizes a new and novel approach to delivering our most powerful supplements to date, by combining cutting-edge ingredients with unique delivery systems; the Pure Series is comprised of many of the best single-item ingredients on the market, giving customers a great low-cost alternative to other brands- why settle for ordinary when you can have extraordinary? Choose the path not taken, choose the next level, choose the Pure Series from Applied Nutraceuticals.