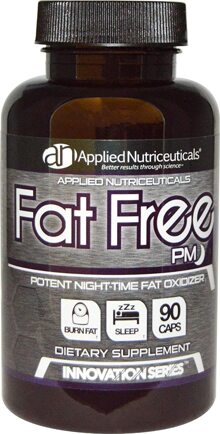 Applied Nutriceuticals Fat Free PM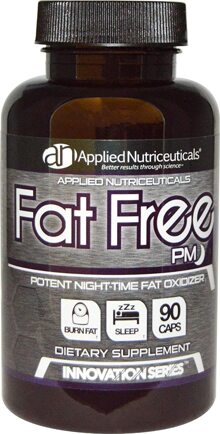 Applied Nutriceuticals Fat Free PM
fat free pm

is designed to help

support:
POWERFUL LATE-NIGHT
THERMOGENESIS*
NIGHT-TIME FAT
OXIDATION*
APPETITE CONTROL*
(WHEN YOU NEED IT MOST!!!)
WITH FAT FREE PM, YOUR WORKOUT IS JUST GETTING STARTED WHEN YOUR HEAD HITS THE PILLOW EACH NIGHT! WHILE YOU SLEEP, FAT FREE PM CAN HELP YOU REST SOUNDLY BY PROMOTING FAT OXIDATION AND ENERGY RESTORATION.* AS THE SECOND PART OF OUR TWO-STAGE WEIGHT MANAGEMENT SYSTEM, FAT FREE PM'S CONVENIENT ENCAPSULATED FORMULATION CONTAINS KEY INGREDIENTS THAT CRUSH LATE-DAY CARBS AND FAT! THE COMPONENTS IN FAT FREE PM SUPPORT THE REDUCTION OF DAYTIME FATIGUE THROUGH OPTIMIZED SLEEP PATTERNS WHILE PROMOTING A FAVORABLE NIGHT-TIME METABOLIC STATE FOR FAT OXIDATION.* THESE POWERFUL INGREDIENTS ALSO PROVIDE OTHER ANCILLARY BENEFITS, RANGING FROM A MOOD-ENHANCING EFFECT TO SUPPORTING A HEALTHY CELLULAR METABOLIC RESPONSE THAT MAY REDUCE FREE RADICALS.* IF YOU'RE EATING SMART AND ELEVATING YOUR WORKOUT REGIMEN DURING THE DAY, DON'T THROW IT ALL AWAY WITH LATE-NIGHT BINGING ON CARBS—LET FAT FREE PM HELP TAKE YOUR WORKOUT TO THE NEXT LEVEL.*
New and improved Ingredients in
In conjunction with Applied Nutriceuticals Fat Free, ingredients in Fat Free PM work around the clock to burn fat, alleviate night-time cravings, and provide a restful sleep with no "hangover" the next day.* While most conventional fat burners only work for 8-10 hours per day, rest assured that Fat Free PM (when combined with Fat Free AM) is working 24/7. Our cutting-edge new Fat Free PM formula utilizes several upgraded ingredients from our original Lipo PM formula, ensuring you get the results YOU have always wanted.
Melatonin

aids in sleep patterns in multiple studies. Melatonin is suggested to alter food intake. In addition, there is mounting evidence between shorter sleep periods and excess weight, with at least 40 studies suggesting an inverse link between self-reported sleep and weight gain.

5-HTP (Griffonia simplicifolia)

aids in sleep patterns in multiple studies. Melatonin has been suggested to alter food intake. In addition, there is mounting evidence between shorter sleep periods and excess weight, with at least 40 studies suggesting an inverse link between self-reported sleep and weight gain. In other words, the less sleep you get, the more weight you gain.

Fucoxanthin (Undaria pinnatifida)

is a powerful carotenoid non-stimulant metabolic aid found in wakame that possesses the ability to mediate lipolysis in human studies, which can help decrease body weight, body fat, and other markers associated with excess weight.*
Tips to maximize the product
Maintain a healthy diet and lifestyle
Drink plenty of water, at least 100 oz. per day
Sleep at least 7 hours per night
Eat plenty of fruits and vegetables
Eat plenty of complex carbs
Increase calories to at least 500 cal/day over your normal intake
Eat 5-6 smaller protein and carb-rich meals throughout the day
Avoid alcohol and tobacco