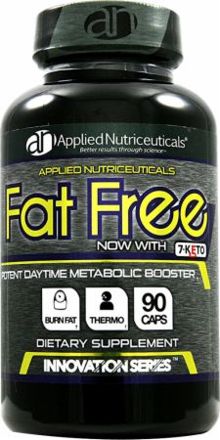 Applied Nutriceuticals Fat Free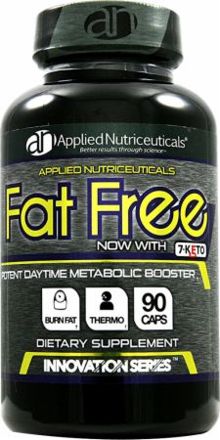 Applied Nutriceuticals Fat Free
fat free is designed
to help support:
on-the-go energy*
am thermogenesis*
support appetite control*
It's survival of the fittest out there, and if you aren't waking up every morning ready to attack the day, you're going to get left behind in the dust. Kick-start your morning with Applied Nutriceuticals Fat Free AM, a powerful fat-loss agent that helps support your metabolism while supplementing the natural carbohydrate-control mechanisms of your body. Fat Free AM utilizes a cutting-edge formula that is bolstered with 7-Keto to help support fat loss, Green Tea Extract to curb cravings, and rauwloscine to support thermogenesis. Give your body the boost it needs with long-lasting energy, appetite control, and support metabolic enhancement—if you're ready to attack the day, let Fat Free AM lead the way.*
ingredients in
In conjunction with Applied Nutriceuticals Fat Free, ingredients in Fat Free AM work around the clock to support weight loss, alleviate daytime cravings, and kick-start your morning.* While most conventional fat burners only work for 8-10 hours per day, Fat Free AM (when combined with Fat Free PM) is working 24/7.* Our cutting-edge new Fat Free AM formula utilizes several upgraded ingredients, supporting the results YOU have always wanted.*
7-Oxo-Dehydroepiandosterone (7-Keto)

is a substance produced by the adrenal glands that has been suggested to support fat loss through several different mechanisms. It also can help mitigate fatigue, which is a common occurrence when dieting (1-6).*

Green Tea Extract

has been suggested to support fat burning and metabolic rate. Widely used around the world, green tea extract has an excellent safety profile and well-documented positive effects on obesity. GTE also has a powerful combination of antioxidants (15-21).*

Rauwloscine (α-johimbe)

has effects that are very similar to its cousin, yohimbine, which assists in fat burning.*
administration, timing
and dosing
Best results occur when a 1-2 capsule dosage is taken on an empty stomach (fasted state) in the morning, and again in the early afternoon. Product has the tendency to work best between meals. For maximum results, take in conjunction with Applied Nutriceuticals Fat Free PM. Cycle 12-16 weeks on, then 6-8 weeks off.
tips to maximize the product
Take in conjunction with Applied Nutriceuticals Fat Free PM
Drink at least 100 oz. of water per day
Get at least 7 hours of sleep each night
Incorporate early morning cardio into your workout regimen at least 3 times per week
Eat plenty of fruits and vegetables, and avoid processed carbohydrates
Take in conjunction with Applied Nutriceuticals Fat Free PM
Decrease caloric intake under your normal intake
References
The effect of 7-Keto Naturalean on weight loss: A randomized, double-blind, placebo-controlled trial
Zenk JL, et al. Effect of lean system 7 on metabolic rate and body composition. Nutrition. (2005)
Davidson M, et al. Safety and pharmacokinetic study with escalating doses of 3-acetyl-7-oxo-dehydroepiandrosterone in healthy male volunteers. Clin Invest Med. (2000)
Hampl R, et al. How short-term transdermal treatment of men with 7-oxo-dehydroepiandrosterone influences thyroid function. Physiol Res. (2006).
Lardy H, et al. Ergosteroids. II: Biologically active metabolites and synthetic derivatives of dehydroepiandrosterone. Steroids. (1998)
Le Mée S, et al. 7beta-Hydroxy-epiandrosterone-mediated regulation of the prostaglandin synthesis pathway in human peripheral blood monocytes. Steroids. (2008)
Kunkel, S.D. et al. mRNA Expression Signatures of Human Skeletal Muscle Atrophy Identify a Natural Compound that Increases Muscle Mass. Cell Metab. 2011 Jun 8;13(6):627-38.
Berlan M, et al Plasma catecholamine levels and lipid mobilization induced by yohimbine in non-obese women. Int J Obes. 1991 May;15(5):305-15.
Berlan M, et al. Alpha 2-adrenoceptor antagonist potencies of two hydroxylated metabolites of yohimbine.Br J Pharmacol. 1993 Apr;108(4):927-32.
Lafontan et al Alpha-2 adrenoceptors in lipolysis: alpha 2 antagonists and lipid-mobilizing strategies. Am J Clin Nutr. 1992 Jan;55(1 Suppl):219S-227S
Burns TW et al ADRENERGIC RECEPTORS AND CYCLIC AMP IN THE REGULATION OF HUMAN ADIPOSE TISSUE LIPOLYSIS J Lab Clin Med. 1971 Dec;78(6):989.
Burns TW et al, Studies on the role of cyclic AMP in human lipolysis Adv Cyclic Nucleotide Res. 1972;1:63-85.