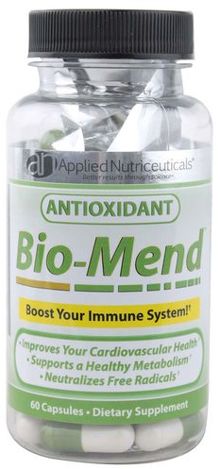 Applied Nutriceuticals Bio-Mend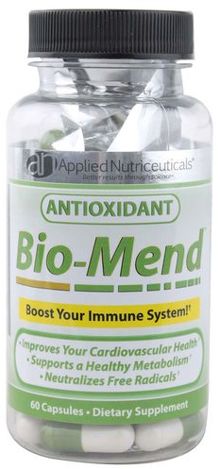 Applied Nutriceuticals Bio-Mend
Swipe left/right to reveal product information
Anti-oxidants, as the name implies, protect your body's cells from oxidation, which produces destructive free radicals that tear down cell walls and inhibit your body's cells from working properly. Improper cell function can lead to a host of health abnormalities and can also make any exercise and nutrition program much less effective. Anti-oxidants counter the effects of these free radicals by removing agents that form them, allowing for improved cellular health, regeneration and nourishment.
Bio-Mend is a broad-spectrum anti-oxidant formula, scientifically engineered to employ nature's most powerful ingredients for maximum cellular protection against free-radical damage. Bio-Mend contains a potent blend of natural extracts that focuses on a number of nutritive processes, for improved health and well-being.
Neutralizes Free Radicals
Supports a Healthy Metabolism
Boosts the Immune System Functions
Improves Cardiovascular Health
Initiates Repair of Damaged Cells
Bio-Mend Frequently Asked Questions
Q: What makes Bio-Mend different from other anti-oxidants?
A: Many anti-oxidants "garbage pail" their formulas with long lists of ingredients in order to "check off" every trendy ingredient out there. Unfortunately this dilutes the effectiveness of all the ingredients because there often is not an effective dose of any one of the individual ingredients. Instead, we carefully selected of 7 of nature's most potent broad-spectrum anti-oxidants and proportioned them in appreciable amounts to create an extremely effective weapon against cellular damage from free radicals. Bio-Mend also has a special focus on the bolstering immune function which may help lessen the length and severity of colds and the flu.
Q: What health benefits will I see from taking Bio-Mend?
A: Bio-Mend has anti-viral and respiratory-enhancing qualities and slows the effects of aging. Some of the components have benefits for the cardiovascular system, and other components have metabolic benefits as well.
Q: When is the best time to take Bio-Mend?
A: We recommend taking Bio-Mend in the morning, but it can be taken any time with successful results.