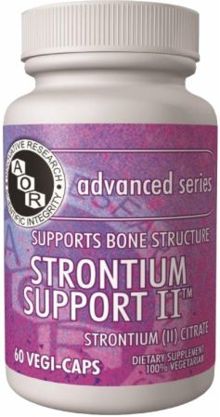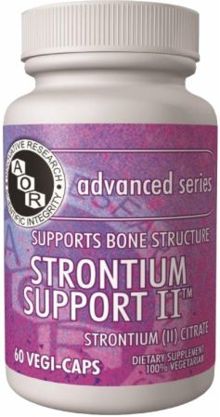 Strontium is a trace mineral which concentrates in the skeletal system.
Strontium Support II now provides the daily dose of strontium in just two capsules.
Strontium is a mineral found along with calcium in most foods. Research has long suggested that it may be an essential nutrient required for the normal development, structure, function, and health of the skeletal system.* Clinical trials going back into the 1940s have supported this conclusion, but recent studies suggest that it can offer unique nutritional support of bone structure and function.*
Human clinical trials suggest Strontium's ability to support healthy bones.*
The results of early clinical trials using Strontium (lactate) led researchers to speculate that Strontium increased osteoblast activity.*
Bone biopsies from a small human pilot trial suggested bone supporting activity after Strontium (gluconate) supplementation.*
Calcium and Strontium: the Dynamic Tension
Calcium and Strontium can both play key roles in the health of your bones - if you use them properly.* On the one hand, animal studies suggest that Strontium is not effective, and may even be counterproductive, if your calcium intake is not adequate. Current "official" recommendations suggest an intake of 1000 milligrams of calcium for younger adults, and 1200 milligrams for people over the age of 50. But remember that these numbers are your total calcium need. The more calcium you get in your diet, the less you need from supplements.
At the same time, however, it's important not to take your Strontium supplement at the same time as your calcium supplements. This is because calcium and Strontium use the same pathways for absorption in the intestinal tract, so swallowing a calcium supplement along with your Strontium can dramatically reduce absorption. So obviously, putting Strontium and calcium in the same pill is a recipe for bone health disaster, in which you don't get the benefits of either nutrient!
The best protocol - and the one used in the most recent clinical trials - is to take your Strontium either three hours after your last meal of the day, or one hour before breakfast in the morning, or both. Because studies suggest that one last dose of calcium just before retiring can help support bone health overnight, it may be best to take all of your Strontium before breakfast, leaving you free to take a calcium supplement just before you go to bed.*
Like the Strontium carbonate crystals (strontianite) from which it was first isolated, Strontium's role in bone health has long been hidden in obscurity. But its strength has allowed it to endure, waiting for the day that it could emerge and reveal its power.
Strontium Support II conveniantly provides high-quality strontium at an effective dose in only two capsules.
References
Sips, AJAM et-al. Intestinal absorption of strontium chloride in healthy volunteers: pharmacokinetics and reproducibility.Br. J Clin Pharmacol. 1996;41:543-549
Sips, AJAM.Absoption kinetics of strontium and calcium in human and experimental animal. Ph.D Thesis. University of Amsterdam. 1994
Skoryna, SC. Effects of oral supplementation with stable strontium. Can Med J. 1981;125:703-712
ATSDR.Toxicological profile for strontium. Atlanta,GA: Agency for toxic substances and disease registry US Dept of Health and Human Services. Public Health Services.2001
Leeuwenkamp,OR et-al. Human pharmacokinetics of orally administered strontium. Calcif. Tissue Int. 1990;47:136-140
Marie,PJ et-al. Effect of low doses of stable strontium on bone metabolism in rats. Mineral Electrolyte Metab. 1985;11:5-13
Shorr, E and Carter, AC. The value of strontium as an adjuvant to calcium in the mineralization of the skeleton. Conference on Metabolic Interactions. Eds. EC Reifenstein Jr.,NY.NY.Pub J Macy Foundation 1950 pp144-154.
McCaslin FE and Janes, HM. The effect of strontium lactate. Proc. Mayo Clinic. 1959;34:329-334
Skoryna,SC and Fuskova, M. In: Skoryna, SC ed. Handbook of stable strontium.NY;Plenum:1985.p593-617
Comar,CL , Wasserman, RH and Nold, NM. Strontium-Calcium discrimination factors in the rat. Proc. Sco. Exp. Biol. Med.1950;92:859-863
Della Rossa et-al. Absorption and retention of ingested strontium and calcium in beagles as a function of age. Nature.1965;205:197-198
Skoryna, SC.Metabolic aspects of the pharmacologic uses of trace elements in human subjects with specific references to stable strontium. Trace Subst. Enviorn Health.1984;18:3-23
Dahl, SG et-al. Incorporation and distribution of strontium in bone. Bone.2001;28:446-453
Storey,E. Strontium "rickets" bone calcium and strontium changes. Austral.Ann. Med. 1961;10:213-222
Matsumoto, A. Effect of strontium chloride on bone resorption induced by prostaglandin E2 in cultured bone. Arch. Toxicol. 1988;62:240-241
Marie,PJ et-al. Mechanisms of action and therapeutic potential of strontium in bone. Calcif. Tissue Int.2001;69:121-129.