Quick Links to Best Prices Price History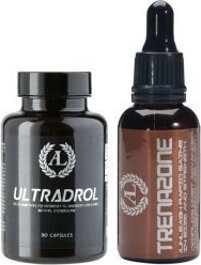 Product Description
Talos by Antaeus Labs
The Ultimate Cardiovascular Support System!
Talos was a figure from Ancient Greek Mythology that guarded the Island of Crete. He was a giant man made of bronze that stood hundreds of feet tall, when enemies saw this they did not dare attack Crete.
In this case Talos will be the guardian of your cardiovascular system. Talos will help regulate your blood pressure, optimize the immune system, help lower cholesterol, and also help detoxify your bloodstream as well. Talos uses a variety of compounds that will keep your system detoxed and running safely when put under the strain of designer steroids and other substances that can cause health issues. These ingredients include Anthocyanins, Matrine, Trans-Resveratrol, 9-Cis-B-Carotene, Salicin, Vitamins B9, B6, and B12, Astaxanthin, Cepharanthine, and Coenzyme A.
Anthocyanins is a highly beneficial substance that is found in high concentration in black cherries. Anthocyanins lowers the levels of HDL and LDL which are increased drastically by the use of anabolic androgens and designer steroids. Lowering these levels greatly decreases the risk for heart disease.
Matrine is a substance that guards against the harmful effects of orally administered androgens. It will protect you from the cholestasis that methylated and methylated compounds because keeping your liver and cardiovascular systems in great shape.
Trans-Resveratrol this compound inhibits a process called lipid peroxidation. Lipid peroxidation can damage the cardiovascular system fuel to the reduction of ROS. Reversatrol is an antioxidant that comes from grapes that will help detoxify the liver and the bloodstream.
9-Cis-B-Carotene is a substance that is derived from carrots. This orange pigment is the precursor to Vitamin A which is a vital for epidermal health. In Talos, beta carotene functions as an anti-atherogenic compound.
Vitamins B9, B6, and B12, are essential for cardiovascular health especially when on anabolic androgens. This is because they increase homocysteine levels, which in elevated levels can cause heart disease, blood clots, and ultimately strokes. These essential vitamins dramatically reduce the homocysteine levels and optimize your cardiovascular health.
Astaxanthin helps the body efficiently metabolize fatty acids in the blood stream which will lower your cholesterol levels. It can also help decrease the likely hood of developing atherosclerosis.
Cepharanthine is an alkaloid compound that occurs naturally in the body. When it is supplemented it can eliminate toxins and free radicals in the blood stream and doubles as a strong anti-inflammatory.
Coenzyme A is important for oxidizing fatty acids in the bloodstream, you can reduce your triglyceride count significantly when supplementing with this product.
Lower Cholesterol
Regulate Blood Pressure
Eliminate Toxins
Prevent Heart Disease
Optimize Cardiovascular Function
Start Supplementing With Talos Today! Protect Your Heart!
FDA: These statements have not been evaluated by the Food and Drug Administration.