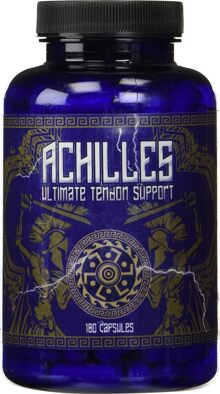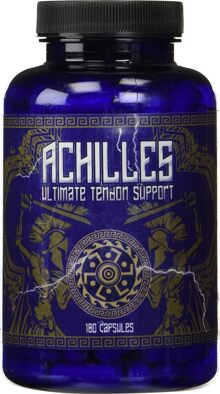 Description
Free Shipping on Antaeus labs Achilles!
Buy 2 for only 26.99 each!
ACHILLES
Ultimate Joint Support
By combining cutting-edge pharmaceutical-grade ingredients with tried-and-tested high-quality herbal extracts, new Achilles from Antaeus Labs brings you the most advanced joint-support formula on the market!
Every hero has a weakness. For many weightlifters and bodybuilders this is their joints. Tendons and ligaments bear the brunt of punishing weight-lifting sessions, commonly becoming inflamed and sore.
The connective tissue just can?t keep up with the heavier and heavier weights lifted week after week.
Niggling pains become chronic injuries, often requiring a forced rest, a change of routine or the permanent dropping of some exercises altogether.


Ingredients:
Palmitoylethanolamide

40 years of scientific research has established Palmitoylethanolamide (PEA) as one of the most important endogenous painkilling and anti-inflammatory compounds.
The naturally occurring fatty acid amide palmitoylethanolamide is an agonist of the peroxisome proliferator-activated receptor alpha (PPAR-α). [1] PPAR-α agonists have been shown to be effective for both acute and chronic pain. [2]
PEA can modulate pain sensitivity (nociception) by regulating mast cells. [3] Mast cells release bioactive mediators like histamine (that dilates blood vessels leading to swelling, redness, and warmth [4]) and nerve growth factor (that produces inflammation and sensitization of pain-sensing neurons [5]).
Heteropterys Aphrodisiaca

Brazilian traditional medicine uses H. aphrodisiaca for, among other things, muscle and bone weakness ? use that has been borne out recently when a study found that H. aphrodisiaca-treated trained rats had stronger tendons that could take a bigger load and more stress than untreated trained rats. [6]
?H. aphrodisiaca associated with endurance training contributed to more efficient remodeling of the extracellular matrix, resulting in more resistant tendons to support high loads from intense muscle contraction. These findings suggest that H. aphrodisiaca infusion is a potential aid to optimize tendon remodeling in athletes.? [6]

Kirenol

The plant Xi Xian Cao (Siegesbeckia orientalis) has been used for centuries in traditional chinese medicine (TCM) for its anti-inflammatory properties. One constituent of Siegesbeckia is Kirenol ? which has recently been discovered to be a potent anti-inflammatory that also suppressed joint inflammation and inhibited cartilage and bone destruction in a rat model of arthritis. [7][8]
Cissus Quadrangularis

Asthisamharaka (Cissus Quadrangularis) is another herb that has been used for centuries in Ayurvedic medicine to heal broken bones and injured ligaments and tendons. [9] Numerous studies show that Cissus is anti-osteoporotic and pro-osteogenic, and it?s long been a staple in the arsenal of athletes and bodybuilders with joint problems. [10][11]
?There was shortening of about two weeks in the duration of bone healing. The hastening in the fracture healing was attributed to the stimulation of all cells of mesenchymal origin, namely, the fibroblasts, chondroblasts and osteoblasts, by Cissus quandrangularis.? [10]
Zingiber Zerumbet

Zingiber Zerumbet is a species of ginger, the rhizome (root) of which has been used traditionally throughout Southeast Asia to treat pain and inflammation. Recent studies have demonstrated antinociceptive, anti-inflammatory, and antioxidant properties. [12] In addition to containing molecules such as 6-gingerol, which are very well-known anti-inflammatory modulators, some of the phytochemical constituents that make up Zingiber Zerumbet have been found to be potent histone deacetylase (HDAC) inhibitors. [13] Several studies have recently concluded that HDAC inhibition can reduce joint inflammation and protect cartilage. [14][15][16]
?In conclusion, inhibition of HDAC prevents joint inflammation and cartilage and bone destruction in experimental arthritis.? [14]
?HDAC inhibitors may therefore be novel chondroprotective therapeutic agents in arthritis by virtue of their ability to inhibit the expression of destructive metalloproteinases by chondrocytes.? [15]
These statements have not been evaluated by the Food and Drug Administration.
This product is not intended to diagnose, treat, cure, or prevent any disease.