Warning: This product is not currently available at any store.
Click the button above and PricePlow will email you with updates from ANS Performance.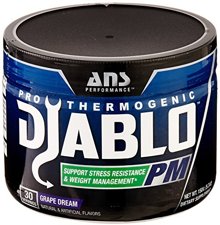 ANS Performance Diablo PM
Relax, Recover &
---
Burn-Fat*
Featuring Novel Cortisol Fighting compound KSM-66*
Supports Reduced Perceived Stress*
Supports Healthy Cortisol Levels*
Supports the Release & Utilization of Stored Fat*
Improves Recovery & Sleep*
Support Executive Mental Function & Focus*
Great-Tasting & Refreshing Flavor
At its core Diablo PM is a powerful weight management tool to help achieve your dream physique while you sleep! What sets Diablo PM apart however, is all the additional benefits that support your general health and well-being.
Scientists worked countless hours to formulate the ultimate product for stress & cortisol control, accelerated mental & physical recovery and weight management.* Diablo PM is a stimulant free formula that is designed to be taken in the evening to help you unwind from the daily stresses of life, but will not 'knock you out'. It contains no sleep inducing ingredients, however it does support relaxation and help may you asleep easier.*
Expect to wake feeling tighter, harder and mentally reset and rejuvenated- ready to take on the world from the moment you spring out of bed.*
---
A Closer Look
L-CARNITINE L-TARTRATE
L-Carnitine is responsible for the transport of fats into the cells to be used for energy in the body. By raising the level of muscle carnitine, you support the fat burning process, and because your body becomes more efficient at processing fuel, it will increase your energy levels. Elevating carnitine will also improve physical performance by burning more fat, sparing glycogen, clearing muscle lactate, and increasing anabolic hormone response.*
GABA – GAMMA AMINOBUTYRIC ACID
GABA (gamma aminobutyric acid) is a non-essential amino acid that acts as a chemical messenger in the human brain. It regulates brain and nerve cell activity by inhibiting the number of neurons firing in the brain, thus acting as the brain´s natural calming agent. By inhibiting over-stimulation of the brain, GABA may help promote relaxation and ease nervous tension.*
ADILASE - HEMEROCALLIS FULVA
ADILASE is an exclusive specialized extract of Hemerocallis fulva, designed to maximize the release of fat from stubborn cells. ADILASE helps stimulate fat cells to release fat into the bloodstream.*
PASSIONFLOWER EXTRACT
The soothing properties of passionflower have been used as a natural remedy for stress and as a general nerve tonic for centuries. Passionflower has been used used to gently relax the mind/body, reduce restlessness, anxiety, and nervousness, while helping prepare the body for sleep.*
L-THEANINE
L-Theanine is a glutamic acid analog. Able to cross the blood-brain barrier, L-Theanine has psychoactive properties; it's been suggested to reduce mental and physical stress and support cognition and mood.*
VITAMIN D
Vitamin D deficiency is becoming more prevalent, yet Vitamin D remains a critical hormone precursor that impact severals aspects of everyday life, including sleep quality & fat metabolism. Diablo PM provides 1000 IU of Vitamin D as cholecalciferol (D3) per dose.*
REAL SCIENCE. REAL RESULTS.