Warning: This product is not currently available at any store.
Click the button above and PricePlow will email you when the first store has it in stock!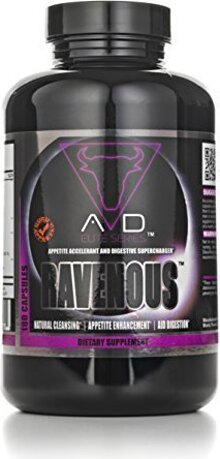 Anabolic Designs RAVENOUS
The ultimate Appetite and digestion solution! Ravenous is a complete digestive cleansing tonic that clears the digestive tract and stimulates animal like appetite by supporting the efficiency at which the body breaks down, converts, utilizes and absorbs nutrients, this is an efficient way to increase appetite.*
You cant feel hungry when your body is housing old waste, and unwanted food!!!
Ravenous - Optimal Nutrient Turnover*
Ravenous is designed to break down food in record speed and support nutrient turnover is at optimal levels to support continual muscle growth and recovery.* Ravenous features DIGESTAPLEX which supports against the release toxins which can back up into the liver.*
Ravenous is an all natural complex that combines western, chinese and ayurvedic herbal combinations to clear the digestive tract, and assist the body to efficiently breakdown down food leaving athletes scrambling to get their hands on their food and gorge on their next meal.*
Ravenous also supports optimal pH of the body for health and feeling of well being.*
Proper Digestion with Ravenous*
Ravenous works by potentially heating the digestive tract with ayurvedic warming herbs contained in OPTIMASS including ginger extract and triphala.* This herbal combination has been used in India and being part of Indian culture for years to aid proper digestion.* Ravenous also has been beefed up with OPTIZYME - a comprehensive matrix of enzymes designed to kick starts the breakdown process from as soon as the food is ingested when.*
Users of Ravenous may notice a stimulated appetite a better sense of well being and less bloating.* The biggest benefit delivered by Ravenous is optimal recovery levels and accelerated growth due to the increased nutrient uptake and protein utilization.*
Ravenous Is The Ideal Product For:
Athletes who struggle to eat sufficient calories to support physical development
Athletes who suffer with bloating after consuming a meal
Offseason Athletes who are looking to gain weight but struggle with poor appetite
Athletes who accumulate body fat rapidly rather than lean muscle tissue
Athletes that rely on solid foods as their diet rather than nutritional shakes
Athletes who need to consume high levels of protein