Quick Links to Best Prices Price History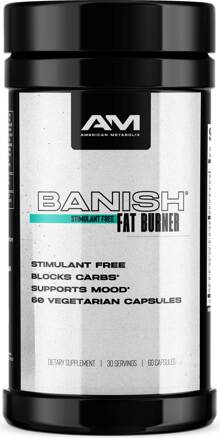 American Metabolix Banish
banish
Metabolic Support*
Weight Management*
Mood Support*
Stimulant Free*
Easy once a day dosing*
Stimulant Free Weight Loss*
Our unique blend of Gugglesterones and vitamin B complex functions as a support system to help the body burn stored body fat, breaking it down into free fatty acids.* Fucoxanthin and acetyl L carnitine then transport and burn these fatty acids, creating energy!*
Slim, Tone, & Tighten
In order to BANISH fat for good, you must utilize the body's natural BMR (basal metabolic rate) and fat transport system by harnessing their full strength. This is the most effective way to heighten BMR and release the stubborn belly fat and trunk fat.
Bitter melon extract and chromium help to combat cravings and support blood sugar levels already within a normal range. Because it's stimulant free, you can even take a dose before bed for all night fat burning. This formula also allows you to take it along with a pre workout like Havok without getting over "stimmed".
1050 MG
Metabolic Supercharge Complex
It's the perfect product to stack with our stimulant based weight loss prodcuts like Exile Super Shock for even greater results!.
Achieve the
Perfect Body
with Our Complete Body Transformation Workout Supplements