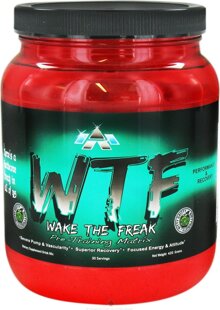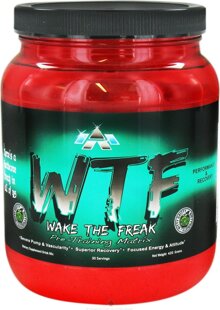 When you use WTF (Wake The Freak) for the very first time you will feel it start to work in minutes. In fact most people experience a burst of focus and energy that starts after about 10-15 minutes with a strong desire to take over a small country, or at least tear up the gym. You just feel that damn good! After the first set, play or round you'll feel the NO flooding your veins and muscle mass bigger than life...then the real chaos begins: Perform like a beast, pump like Mr. O, and focus like a hunting soldier in "300".
WTF Pre-Training Matrix
WTF is not just another "everything but the kitchen sink NO formula" that boasts a label containing 40 different compounds...then lands in the toilet. This commonly commented upon extra wind sprint trip to the bathroom is sadly due to a serious lack of multi-compound synergy. Think about it, if it hits the toilet before you hit the weights, how many of those endless compounds in that kitchen sink formula did your body get to use? How synergistic can they be if they start a gang war in you GI track with a command for immediate evacuation? There is more to creating an optimized synergistic nitric oxide formula for performance enhancement than seeing who can add more fluff ingredients.
Geez, the physiological results of any NO product formula should be:
Painful long lasting and skin stretching pumps that last for hours
Direct type II muscle fiber stimulation and growth support
Almost instant train like an animal energy and focus
Increased muscle contractile force you can feel and see
Accelerated post performance recovery you can brag about
Dramatic enhanced muscle nutrient uptake (supraphysiological growth enhancement)
More energy for more plays, sets, rounds or whatever gets your freak off
Anti-fatigue that forces you to exceed the competitions capacity to perform
Innervation of dormant muscle cells and fibers
What the formula should NOT support:
The need to rush to a bathroom stall soon after ingesting (Does not count as cardio)
Lack of post performance appetite (If you cannot eat you cannot grow)
Ingredients that either cancel each other or compete for receptors...or hit the toilet
loss of sleep due to over dosed long acting stimulants
Nausea
Wake The Freak In You Now
When you use WTF (Wake The Freak) for the very first time you will feel it start to work in minutes. In fact most people experience a burst of focus and energy that starts after about 10-15 minutes with a strong desire to take over a small country, or at least tear up the gym. You just feel that damn good! After the first set, play or round you'll feel the NO flooding your veins and muscle mass bigger than life...then the real chaos begins: Perform like a beast, pump like Mr. O, and focus like a hunting soldier in "300".
THE SCIENCE BEHIND WTF
Warning: Science Geek Stuff Follows
So What's In WTF Other Than the Best Flavors in the Industry? Proprietary (Balls To The Walls) Sustained Release matrix: Di-Arginine Malate, Histidine Malate and Citrulline Malate, Tri-Creatine Malate, Creatinol-O-Phosphate (COP)
Come on now, you have to wonder why this under-50 ingredient seemingly simple matrix is something to get excited about. First note most of the compounds ALR uses are Alpha-hydroxy analogs. Malates are the most awesome esters. This is important to you due to more than a few reasons. Malates posses a positive results enhancing longer half-life when compared to other esters. Certainly longer than plain L-Arginine or other amino acids in un-protected forms commonly found in most formulas.
Second important synergistic fact is the significant increase in oral bioavailability. This means malates deliver active compounds longer and in larger amounts than other common analogs used in NO or other related products. The result is no cross cancellation and goal oriented synergy that works in the body not just on paper.
Down To the Facts and...Dealing With Fiction:
Think nitric oxide (NO) may be pretty important? Researchers were awarded the Nobel Peace Prize in 1998 for their work in discovering the nitric oxide (NO) molecule. Increased intake of Di-Arginine Malate, Histidine Malate and Citrulline Malate has been proven to support a significant increase in Nitric Oxide production. When joined to an alpha-hydroxy ester this of course leads to another significant amplification in "cell signaling" and an all day pump. This "cell signaling" stimulates serious increased protein synthesis and glucose storage in muscles. The result? "The pump" and more importantly, greater lean muscle mass potential. Apparently, there may be a correlation with reduced cardiovascular disease and increased levels of nitric oxide.
Benefits from Di-Arginine Malate, Histidine Malate and Citrulline Malate include:
Immediate and on-going strength increases we are talking functional muscle strength increase and increased sets/reps)
Increased body weight - recreates natural set-point at a higher level
Up-regulated and sustains blood flow - widens the diameter of blood vessels and increases blood flow to skeletal muscles thus increasing nutrient up-take (such as creatine, amino acids, glucose, O2...food) into muscle
Head to toe recovery - extends the recovery/anabolic window from about 90 minutes to all day
Increased muscle fiber count – hard-core tighter look to muscles without the stay–puff look or bloating
So we know the inclusion of Di-Arginine Malate was due to the unique 2:1 ratio of Arginine to Malate creating a dual active and dense highly orally bioavailable compound for more NO production. And we know Citrulline Malate is both synergistic to Di-Arginine Malate and co-supportive of NO up-regulation. Did you know that some research states histidine alone increases nitric oxide (NO) 48% more than an equivalent concentration of arginine? Can you say synergy?
In one of many very interesting studies using citrulline malate, 18 males complaining of chronic fatigue were supplemented with citrulline malate for 15 days. The results: "Citrulline malate ingestion resulted in a significant reduction in the sensation of fatigue, a 34% increase in the rate of oxidative ATP production during exercise, and a 20% increase in the rate of phosphocreatine recovery after exercise, indicating a larger contribution of oxidative ATP synthesis to energy production. "Which may be the result of an enhanced malate supply activating ATP production from the tricarboxylic acid cycle through anaplerotic reactions."
Conclusion: The changes in muscle metabolism produced by treatment indicate that Citrulline malate may promote aerobic energy production. Br J Sports Med. 2002 August; 36(4): 282–289. doi: 10.1136/bjsm.36.4.282.
Okay, so now that we have all the benefits of NO up-regulation maximized and synergistically formulated, why do we include Tri-Creatine Malate and Creatinol-O-Phosphate (COP)? We have already validated the potential for a 34% increase in ATP production and a 20% increase in phosphocreatine (A.K.A. Creatine Phosphate, the kind of creatine used in muscle cells) from Citrulline Malate, right? Simple: Because a formulary based upon a complete none-competitive synergistic matrix uses all of the functional and additive physiological pathways so 1+1 = 3 and you grow.
Tri-Creatine Malate should be a no brainer: We have 3 creatine molecules joined to one molecule of our favorite alpha-hydroxy-ester. In short Tri-Creatine Malate delivers greater amounts of active compound density with an increase in oral bioavailability. Add in the prolonged half-life for greater cellular up-take too of course. The end result is lots of extra intracellular Creatine Phosphate (CP) resulting in greater amounts of ATP and faster regeneration of ADP to ATP for greater recovery and improved muscle performance. The synergy between CP and NO is not just linked, it's paramount. Think citrulline malate is THE synergist for Tri-Creatine Malate?
But why include Creatinol-O-Phosphate (N-Methyl-N-(beta-hydroxyethyl) guanidine O-phosphate (creatinol-O-phosphate, COP)? Pretty simply really: Do you want a shot at exceeding your current genetic potential? Yeah, I know, BS and that sounds like an old 80's sales commercial to even suggest that.
Did you know that your body is full of dormant muscle cells and fibers? I mean they do not work, grow or add to performance capacity...but they can with the right trigger. According to some research Creatinol-O-Phosphate can convert as much as 83% of dormant muscle fibers into active muscle fibers thus increasing the potential for growth approximately the same amount. That would be quite a trigger, huh?
Forgive me, but I simply do not buy that and the studies we have to work from leave such claims in question IMO. However, based upon the actual research available and from testing the compound on several performance athletes of all ages the past couple years I have noted that there are significant benefits possible from Creatinol-O-Phosphate utilization.
First, all test subjects did increase lean mass notably and lose bodyfat, and all subjects did increase muscle size and mass as well as obvious harder looking density. Older subjects appear to have provided the greatest results to review likely due to age (dormant cells and fibers in muscle increase with age). My personal experience has been very note worthy but more so when the necessary synergistic compounds are included in the supplemental protocol. In this case strong NO augmentation. We tested the new WTF both with and without Creatinol-O-Phosphate. Within 7 days of use it was obvious that a great deal of the research and studies are correct as those who used WTF with Creatinol-O-Phosphate had the most dramatic results both aesthetically and in performance capacity.
Feed The Need
Now that we know we will be training like an over pumped up beast and burning calories, how are we going to trigger supraphysiological levels of muscle cell nutrient up-take? First we know that NO supports nutrient up take at the cellular level by acting as a messenger, but we need some help shuttling some serious calories INTO the muscle cells to support cellular recovery and anabolism. Most already know that insulin is the primary nutrient transport hormone our body utilizes to feed hungry tissues amino acids, glucose, fatty acids and micro-nutrients. To a point more insulin or better yet, greater insulin sensitivity is the final key. We added a time release glycerol called glycerol monosterate (GM) to prolong the nutrient shuttling effects of glycerol. (CM is those sweet time release crystals in the shaker cup) Add to this cool compound BPOV for greater muscle cell insulin receptor sensitivity and up-regulation. Next, add the amino acid Taurine for addition insulin receptor sensitivity as well as greater insulin release and you have a powerful nutrient up-take matrix. In fact how about a matrix powerful enough to support the affects of significant increases in NO, CP and additional muscle fibers!
Energy and Focus
Energy and focus are paramount to the level of success one achieves in any task undertaken. However, long acting stimulants like high dose caffeine or synephrine make it damn hard to grow and improve because they make it damn hard to eat post training. We have about a 90 minute anabolic window post-performance that allows us to take two steps forward. But when you are filled with nausea and heavy stims this window slips away leaving you wondering why you trained at all and 2 steps back. We added low dose caffeine, Taurine and most important Glycine Sinesis concentrate to the master formula. So what? Taurine increases focus and energy, the low dose caffeine occupies the purine pathway so the short acting but very powerful xanthins in Glycine Sinesis Concentrate can do their attitude building thing. The result is a near animalistic focus and energy level that only lasts 90 minutes. Yup, just the right amount of time it takes to get in, train like a beast, get pumped like Big Jay then head for food.