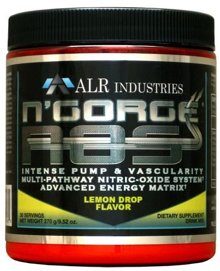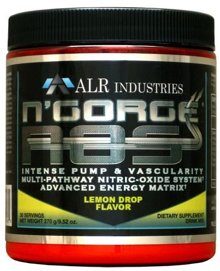 ALRI N'Gorge NOS Product Information

Intense pump & vascularity multi-pathway nitric-oxide system. Advanced energy matrix. Drink mix.


Nutrition Facts

†

Serving Size 1 Scoop
Servings Per Container 30
Amount Per Serving



Serving

% DV

Optimized Proprietary Matrix

9 g

-



Proprietary Blends


Optimized Proprietary Matrix

Dicreatine Malate,Beta-Alanine, L-Arginine Malate, Caffeine Anhydrous,Acacia Rigidula Extract 98%, 2(S)-amino-6-boronhexanoic acid(ABH), S-(2-boronethyl)-L-cysteine HCl(BEC), Theobromine, Hordenine, L-Norvaline, Piperine(fruit of piper nigrum L extract).




*percent Daily Values are based on a 2,000 calorie diet.




Ingredients: Natural and Artificial Blue Raspberry and Lemon Flavors, Sucralose, Acesulfame K, Natural Coloring.

*These statements have not been evaluated by the Food and Drug Administration. This product is not intended to diagnose, treat, cure or prevent any disease.

†Nutritions Facts are a simulation of the product "Nutrition Label". For the actual Nutrition Label please refer to the product packaging.
Directions
Take one (1) scoop with eight to twelve (8-12) fluid ounces of water thirty (30) minutes prior to training or performance (preferably on an empty stomach). N'Gorge NOS may be ingested with HumaPro or Chain'd Out.
Warnings
NOT FOR USE BY INDIVIDUALS UNDER THE AGE OF 21. DO NOT USE IF PREGNANT OR NURSING. Do not use if you have a medical condition or are taking any prescription medication. Consult a physician prior to using this product if you have any pre-existing medical condition including, but not limited to, hypertension, cardiac arrhythmia, stroke, heart, liver, kidney or thyroid disease, diabetes, asthma, headaches, nervousness, anxiety, Parkinson's disease, glaucoma, difficulty urinating, prostate enlargement, seizures, depression, psychiatric disease or any other medical condition. Do not use this product if you are using a monoamine oxidase inhibitor (MAOI) or any other dietary supplement, prescription drug or any over-the-counter drug containing ephedrine, pseudoephedrine or phenylpropanolamine (ingredients found in certain allergy, asthma, cough or cold and weight control products). If you experience rapid heartbeat, dizziness, headaches, fever, nausea, shortness of breath or any other adverse reaction discontinue use immediately and consult a physician. Discontinue use 2 weeks prior to surgery. Individuals who consume caffeine with this product or who are sensitive to caffeine may experience serious adverse health effects. Improper use of this product may be hazardous to a person's health. Drink plenty of water when using this product. DO NOT EXCEED RECOMMENDED SERVING. DO NOT CONSUME WITH ALCOHOL OR OTHER STIMULANTS. Do not use for more than 5 out of 7 consecutive days for a maximum of 6 weeks before taking a 2 week break. This product may contain substance(s) which are banned by various sports and other organizations. Use of this product could trigger a failed drug test from various sports and other governing authorities. There are 300 mg of caffeine and other xanthines per serving. NOTE: READ ENTIRE LABEL PRIOR TO USE. Keep out of reach of children.