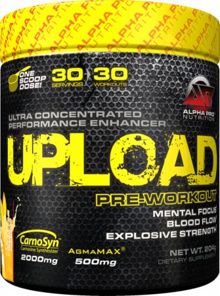 Alpha Pro Nutrition Upload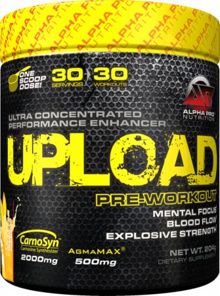 Alpha Pro Nutrition Upload
Alpha Pro Nutrition's UPLOAD is a fairly new product that is sold in only a few stores so far, but is bringing some great results. Alpha Pro's claim is that UPLOAD is research-created and designed for results without the use of fillers such as maltodextrin or artificial sweeteners.
The Upload Benefits
Some distinguishing characteristics include:
UPLOAD works a lot faster than most pre-workouts. Athletes and consumers all say that it "kicks in" after 10-15 minutes from ingestion.
Taste and mixability were of primary importance and UPLOAD has had excellent feedback on both
AgmaMax Agmatine gives a much greater pump than generic Agmatine.
Coconut Water powder really helps with hydration and therefore performance
---
Upload Ingredients
Some of these numbers aren't on the nutrition facts, but based on the packaging we know there is 2000mg of Beta-Alanine (CarnoSyn brand), 500mg of Agmatine Sulfate (AgmaMax), and 2365mg for the rest of the ingredients.
---
Ingredient Analysis of UPLOAD
Beta-Alanine (Carnosyn)

A non-proteinogenic amino acid that can enhance the buffering capacity of muscle by increasing muscle carnosine concentrations.[1]

Agmatine Sulfate (AgmaMax)

Agmatine has been noted to support nitric oxide (NO) production via stimulation of endothelial nitric oxide synthase (eNOS).[2]

Caffeine

Caffeine is a mild central nervous system stimulant, whose effects are similar to those associated with amphetamines, only much weaker. It has been used as an ergogenic aid for many years, but consistent benefits have only been seen during exhaustive endurance exercise in which time to exhaustion is often improved.[3]

Raw Coconut Water Concentrate

Coconut water is naturally occurring, is very rich in potassium, contains sodium, chloride, and carbohydrate, and is viewed as the hydrating beverage of choice in certain parts of the world.[4]

Dendrobium Nobile

A medicinally important epiphytic orchid and native to the states of North-east India, China, Myanmar, Thailand and Nepal. Attractive flowers and the pattern of flowering (large number of flowers per inflorescence) has made D. nobile commercially important in the cut flower market. Along with its ornamental importance it have been used in the Chinese herbal drug industry for its medicinal property. The stems of this species are used as a tonic to improve digestion and for promoting the production of body fluid.[5]

Creatine Pyruvate

Cr-Pyr and Cr-Cit intake significantly improves performance during intermittent handgrip exercise of maximal intensity and that Cr-Pyr might benefit endurance, due to enhanced activity of the aerobic metabolism.[6]

Rhodiola Extract

An adaptogen plant which has been reported to promote fatty acids utilization, to ameliorate antioxidant function, and to improve body resistance to physical strenuous efforts.[7]

Guarana Extract

A climbing evergreen vine with small fruits and is native to the Amazon region . Paullinia cupana seed extracts have been used in folk medicine since pre-Columbian times as stimulants, aphrodisiacs, and tonics.[8]
---
Alpha Pro Upload Reviews already out there
The general consensus of Alpha Pro Nutrition's UPLOAD is a thumbs up. Some of the biggest positives of this product include the taste, increased energy, and effectively dosed ingredients. However some of the negatives include it having a prop blend and non-effective pump product.
---
Daniel's Log
Daniel Z will be using Upload for a month, and is logging his results weekly on the PricePlow blog. You can click to read his introduction / day 1 thoughts.
---