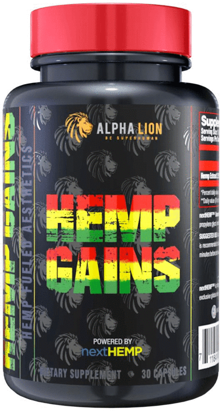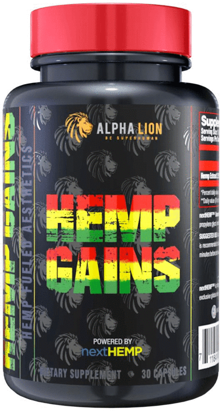 TKO Post Workout Muscle Tension†
Destroy Cortisol, the #1 Gains Killer†
Creates the perfect environment for fat loss†
Drastically improves sleep quality when taken before bed†
Relaxes your Mind and Body - Kill Stress†
[end-short-description]

WELCOME TO HEMP FUELED AESTHETICS

HEMP GAINS allows you to reap all of the bodybuilding benefits of smoking marijuana, without all of the negative health side effects.
You do not "get high" from taking HEMP GAINS.
HEMP GAINS contains absolutely no "THC" which is responsible for the psychoactive side effects you might associate with marijuana.
HEMP GAINS contains the trademarked extract nextHemp, which is up to 20x more bio-available then 'regular hemp extract'.
So what's so good about HEMP GAINS for building muscle mass and speeding up fat loss?
HEMP GAINS drastically reduces body tension, stress, and cortisol levels. This primes your body to be in the best muscle building and fat burning environment possible.
HEMP GAINS has strong antioxidant and anti-inflammatory properties - without any of the toxicity and dangerous side effects from anti-inflammatory drugs like ibuprofen, Advil and Tylenol - which have been shown to wreak havoc on your gut lining, liver and kidneys.
If you suffer from mental or physical stress in the form of: poor sleep, muscle soreness, intense training, feeling overwhelmed, job related stress, school related stress, social anxiety, body tension, or even relationship stress - you can increase muscle gains and reduce cortisol by taking HEMP GAINS.
NEXT HEMP is non addictive, as HEMP does not act on any receptors in the brain that would produce addiction.
†These statements have not been evaluated by the Food and Drug Administration. This product is not intended to diagnose, treat, cure, or prevent any disease.
**not suitable for persons under 18 years old
---