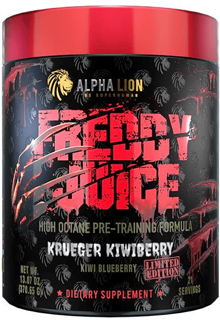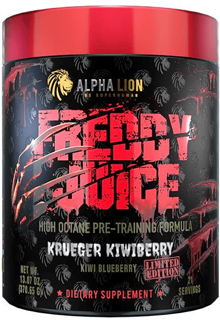 Limited Edition Version of SUPERHUMAN Pre-workout

Same World Class Pump and Energy Formula

Only 500 Tubs Available

Mouth Watering Kiwi Blueberry Flavor

Bottle Designed After Shreddy Krueger
[end-short-description]
DRINK FREDDY STAY SHREDDY
In honor of Halloween 2018, We are dropping our 1st ever limited edition bottle - FREDDY JUICE.
Only 500 of this limited edition collectors item will ever be available, and it will be first come first serve!
FREDDY JUICE comes in 1 delicious flavor - Krueger Kiwiberry.
FREDDY JUICE is the exact same legendary formula as SuperHuman Pre Workout - so you can drink Freddy and Stay Shreddy!
Find the GOLDEN GAINS stamp on your bottle and WIN a years supply of SUPERHUMAN.
Find the ELM STREET stamp on your bottle and WIN a free superhuman - 25 winners chosen.
†These statements have not been evaluated by the Food and Drug Administration. This product is not intended to diagnose, treat, cure, or prevent any disease.
**not suitable for persons under 18 years old.